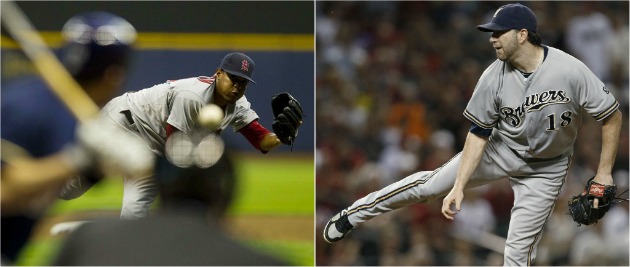 By C. Trent Rosecrans
MILWAUKEE -- It's been beat into the ground by this time in the playoffs, but it's only because it's held true -- every game at Miller Park is crucial to the Brewers, who held baseball's best home record and struggled on the road this season. So far, the Miller Park faithful has seen four postseason victories and no losses. The Brewers also lost both of their road games in Arizona in the first round, furthering the storyline.
Sunday, the Brewers came back from an early deficit to beat the Cardinals, giving Milwaukee the early lead in the series and keeping the momentum alive at home.
"The atmosphere here is something that we really feed off of, I think it's one o fate big reasons we've been so successful here at home," Brewers left fielder Ryan Braun said. "Obviously the fans are very passionate. And they're excited. I think they're enjoying it as much as we are, playing meaningful baseball games on Oct. 10. And they're embracing the opportunity, just like we are, and trying to make the most of it."
For St. Louis, getting a win in Milwaukee would mean a chance at clinching a trip to the World Series at home. For a team that came back from 8 1/2 games in the wild card in the last three-and-half weeks of the season and lost the first game of the NL division series, St. Louis is used to performing under pressure.
"Just look at how we've played over the last six weeks -- we've lost some tough games and bounced back, we did it against Philly, we did it in the last two weeks of the season when we needed wins, we're too good of a ball club," St. Louis first baseman Albert Pujols said. "This is too long of a series and whoever wins four games is going to the World Series. Just because they won one game -- you can go to the (Brewers) side and ask them -- it's not over."
PITCHING MATCHUPS
Cardinals' Edwin Jackson: The right-hander's last outing came in Game 4 of the NLDS with the Cardinals facing elimination and he rebounded from giving up two first-inning runs, he allowed just three more base runners in his six innings as St. Louis forced a Game 5 with a victory over Roy Oswalt and the Cardinals.
The start was Jackson's first postseason start of his career, but not his first appearance, having pitched in three games of the 2008 postseason with the Rays. The oft-traded Jackson has gone 5-2 with a 3.58 ERA in 12 starts and 13 games since coming to the Cardinals, and take out one start and his ERA's down to 2.92. But there's the rub -- that one start you'd need to take out was against the Brewers, at Mlller Park. In just his second start for the Cardinals, Jackson surrendered 10 runs (but just eight earned) in seven innings on 14 hits. The Brewers tagged him for four homers -- three by Casey McGehee and one from Corey Hart to lead off the first inning.
On Sunday, Jackson was asked about that start -- "What start? It's that simple. I mean, I'm a competitor. I mean, I can take my beatings and I can handle that. It's not my first one and it probably won't be my last."
Jackson followed that start with another against the Brewers -- losing but in better fashion, allowing three runs (two earned) on six hits in six innings on Aug. 9. In his next start in Milwaukee he allowed just one run in seven innings, earning the win.
Brewers' Shaun Marcum: The Brewer right-hander wasn't able to get through the fifth inning in his one start in the NLDS, going up seven runs in just 4 2/3 innings in Game 3. During the season, he flashed moments of brilliance, but also struggled -- evening out to a 13-7 record with a 3.54 ERA.
Marcum's Game 3 start will best be remembered for his flip of his glove after giving up a grand slam to Arizona's Paul Goldschmidt.
"I didn't really see the replay, and I didn't realize I did it until afterwards," Marcum said. "I was like, what the heck did I just do? It reminded me of Ted Lilly a couple of years ago in Arizona, but he slammed his glove down on the ground. It's just a reaction thing. Definitely I didn't realize I did it until afterwards."
Like just about every other pitcher in this series, he's seen plenty of his NLCS opponents -- facing the Cardinals three times in August, going 0-1 with a 4.26 ERA in those three starts and 1-1 with a 4.15 ERA in four total starts against St. Louis.
"They know what I'm going to do; I know what approach they're going to take for me," Marcum said. "For me it's a matter of going out and locating, keeping the ball down. I do know what they're going to try to do. They know what they're going to try to do against me. We're going to go back and forth."
Starting pitching advantage for Game 2:

Both starters are so unpredictable that it's hard to give anyone an edge -- it depends on the night.
LINEUPS
NOTES
With his 62nd postseason game in a Cardinals' uniform, Albert Pujols passed Jim Edmonds for most in franchise history. With his single in the first inning, Pujols has now hit safely in 21 of the 26 LCS games in his career, hitting .354 (34 for 96) in the LCS with eight homers and 18 RBI.
Based on history, the Brewers' victory in Game 1 puts them in the driver's seat -- in the last 19 NLCS, winner of Game 1 has gone on to win the series 16 times (84.2 percent).
Rafael Furcal hsas a hit in each of the nine games he's played at Miller Park this season, with eight of those coming as a Cardinal. He's hitting .323 (10 for 31) here this season and .295 (26 for 88) in his career.
Despite the Brewers' prodigious power, Sunday was just the second time in team history Milwaukee hit multiple homers in one playoff game. The only other time came exactly 30 years before, when Pal Molitor and Ted Simmons hit home runs against the Yankees in Game 3 of the ALDS on Oct. 9, 1981. It was the 37th time Braun and Fielder homered in the same game.
Marcum may not have the most success with the Cardinals this season, but he has had success against Pujols and Lance Berkman. Berkman is just 1 for 15 in his career against Marcum and Pujols is 1 for 9.
Likewise, Jackson's been good against Braun and Fielder. Braun is 2 for 12 against Jackson and Fielder is 2 for 13. McGehee's three homers are his only three hits against Jackson in his career.
For more baseball news, rumors and analysis, follow @cbssportsmlb on Twitter or subscribe to the RSS feed.