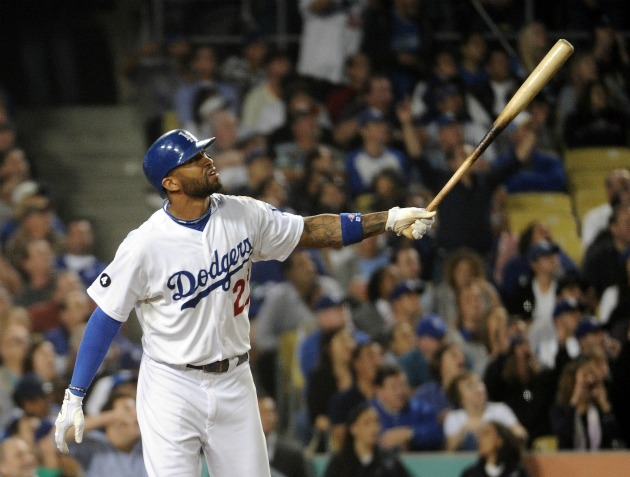 By C. Trent Rosecrans
They were wearing KEMVP shirts in Los Angeles on Thursday night -- and it's hard to argue with them.
In a season where there was little to cheer for at Chavez Ravine, Kemp's amazing 2011 season was something that never seemed to disappoint. And in the last home game of the season on Thursday, Kemp did nothing to disappoint -- with his mother in the stands, Kemp went 4 for 5 with three doubles and his 36th home run of the season.
And don't look now, but Kemp still has a shot at the triple crown -- he leads the league with 118 RBI, five ahead of Ryan Howard, he's just one homer behind Albert Pujols and he's third in batting average at .326, trailing Ryan Braun (.330) and Jose Reyes (.329).
He's also fourth in on-base percentage (.403), second in slugging (.582) and first in OPS (.985). He also leads in total bases (335), runs (109), second in stolen bases (40) and second in hits (188).
If you like more advanced stats, according to Baseball-Reference.com, he leads in WAR (9.6) and OPS+ (171).
You may say his team stunk and he doesn't deserve the MVP -- but doesn't that make what he did more valuable? As bad as the Dodgers' season has been, they're still above .500 at 78-77 after last night's victory over the Giants. Andre Ethier had a nice run earlier in the season, but he's hardly been in the MVP discussion along with Kemp, while Braun has had Prince Fielder and Pujols has Lance Berkman and Matt Holliday. Jose Reyes' team has a worse record and Justin Upton can't match his stats. Kemp's not only the best player in the National League, he's also the most valuable.
Historic collapse: No, I'm not talking about the Red Sox or Braves -- it's the Pirates. Dejan Kovacevic of the Pittsburgh Tribune-Review, with a little help from the folks at Elias Sports Bureau, writes that in the modern age of Major League Baseball (otherwise known as "since 1900"), no team has fared worse after being in first place at the 100-game marker. The Pirates have gone 16-40 since holding first place at 53-47 on July 25. The Pirates' .286 is by far the worst, with the 1977 Cubs coming second. That team was 60-40 through 100 games and then went 21-41 the rest of the way. You never want to be better than the Cubs at being bad.
Like his stature, Timmy likes his deals short: San Francisco's Tim Lincecum tells the San Francisco Chronicle that he doesn't want to sign a long-term deal that would buy out his future free-agent years. Lincecum is eligible for free agency after the 2013 season.
Master storyteller: One of the great joys of this job is to meet some of the great personalities in this game. With broadcasters, most of their best stories come off the air -- and nobody has more and better stories than Vin Scully. Check out this story about Scully and Don Zimmer. [Los Angeles Times]
See you in San Jose?: Could the A's be the biggest beneficiary of the change in Giants ownership? They could be, and Mark Purdy, who broke the initial story, explains. [San Jose Mercury News]
Ichiro not ichi?: Ichiro Suzuki will likely have his streak of 10 years with at least 200 hits broken this week, and next year he may not be leading off. Mariners manager Eric Wedge is not committing to Ichiro batting in his customary leadoff spot next season. [Seattle Times]
Runs in the family: Raul Lopez, the father of the guy who caught Derek Jeter's 3,000th hit, got a souvenir of his own on Wednesday. [New York Times]
Ax mustache spray: Brewers closer John Axford made this fake commercial. [Milwaukee Journal Sentinel]
How about the American League MVP?: Forget Curtis Granderson on Adrian Gonzalez or Justin Verlander, Robinson Cano says that if he had a vote, he'd vote himself. He doesn't. [ESPN New York]
MVP improves: Last year's NL MVP, Joey Votto, says he did "more with less" this season than he did in 2010 when he won the league's MVP. Looking at his numbers -- and the absence of Scott Rolen in the lineup -- it's tough to disagree. If I had any quibble is it'd be that he did about the same with less. Either way, Votto was impressive and has established himself as one of the game's best. [MLB.com]
Oswalt not done: Although the 33-year-old Roy Oswalt had hinted at his retirement, his agent now says he's not considering hanging them up after this season. It may have something to do with Oswalt looking around at the weak free agent pitching market and seeing he'll get paid. [MLB.com]
Porter interviewing again:
If the
Marlins
were dating, they'd just about have to put out for Bo Porter by now. The
Nationals
' first-base coach is scheduled to interview for the Marlins' manager job soon,
the Washington Post reports
. Porter interviewed midseason last season when the team fired Fredi Gonzalez and then again after the season. Porter is among the candidates to take over in Washington, too,
MLB.com reports
.
NL dreaming: White Sox starter Mark Buehrle says he's intrigued by the thought of pitching in a new league. Buehrle lives near St. Louis and has mentioned that he'd like to pitch for the Cardinals. Add him to Chris Carpenter, Adam Wainwright and Jaime Garcia and you'd have a pretty good rotation. Of course, the Cardinals do have other financial concerns this offseason. How about Cincinnati? It's a little longer drive to his home, but the Reds rotation could certainly use the veteran. [MLB.com]
Celebrate good times: The Astros announced their plans to celebrate their 50th anniversary season in 2012 with six different throwback uniforms they'll use next season -- including the famous rainbow jersey, one of the best in the history of the game. [MLB.com]
For more baseball news, rumors and analysis, follow @eyeonbaseball on Twitter or subscribe to the RSS feed.