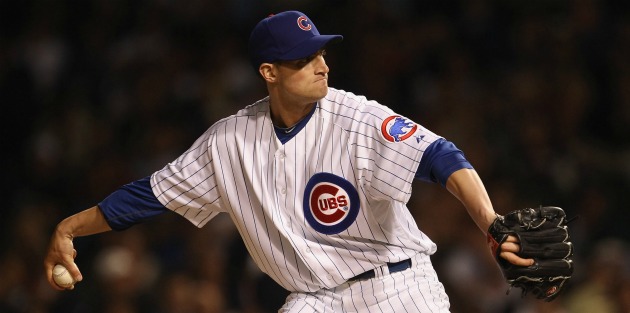 By C. Trent Rosecrans
In what only seems fitting, the
Red Sox
and
Cubs
have agreed upon the compensation for new Chicago president Theo Epstein, but there are still players to be named for both teams to complete the deal, dragging out the case even longer. The two teams have been trying to figure out the compensation for Epstein's move from Boston since the World Series, when Epstein was hired.
The Red Sox will receive right-hander
Chris Carpenter
(no, not that
Chris Carpenter
) and a player to be named, while the Cubs will also receive a player to be named. Red Sox general manager Ben Cherington told reporters the players to be named will be decided by the end of spring training. Cubs general manager Jed Hoyer said the two players to be named are just a "procedural" thing to satisfy MLB transaction rules.
Carpenter, 26, was ranked the No. 13 prospect in the Cubs' system by
Baseball America
(and the same publication had the Cubs' system ranked No. 14 overall).
The Cubs drafted him in the third round of the 2008 draft out of Kent State. Last season he pitched in 10 games for the Cubs, putting up a 2.79 ERA in 10 innings, allowing 12 hits, a home run, seven walks and eight strikeouts. In his first season as a reliever, Carpenter pitched in 32 games between Double-A and Triple-A, going 3-4 with a 5.91 ERA and 34 strikeouts in 42 2/3 innings. He had a WHIP of 1.617.
"I am relieved that this process is over and particularly pleased that the teams were able to reach agreement on their own without intervention from MLB," Epstein said in a statement from the Cubs. "I truly hope and believe that this resolution will benefit both clubs, as well as Chris, who is an extremely talented reliever joining a great organization at a time when there's some opportunity in the major league bullpen."
While there had been reports that Bud Selig would have to decide the matter, Selig said the two sides worked out the move on their own.
"I am pleased that the Cubs and the Red Sox have resolved this matter," Selig said in a statement realsed by MLB. "It has always been my preference that Clubs resolve matters like this amongst themselves, as they understand their unique circumstances better than anyone else could. Though the matter required time, both Clubs demonstrated professionalism throughout their discussions, and I appreciate their persistence in finding common ground."
Cherington said he was happy to have the matter decided.
"I think it took this long because it was a unique circumstance," Cherington said, according to the Associated Press. "We talk to teams all the time about trades and it's player for player and it's pretty easy to, easier to, assign value and figure out what's fair, what's not fair. In this case it was just tougher because it involved not just an executive but a friend."
For more baseball news, rumors and analysis, follow @EyeOnBaseball on Twitter, subscribe to the RSS feed and "like" us on Facebook.