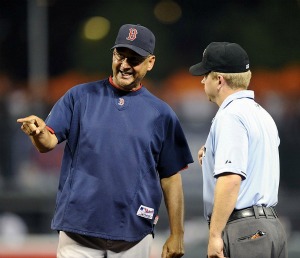 By C. Trent Rosecrans
As an analyst at ESPN, former
Red Sox
manager Terry Francona is in a bit of an awkward spot when asked about his former team -- especially Monday when he was asked about Bobby Valentine's new ban on alcohol in the team's clubhouse.
Appearing on ESPN Radio's "Mike and Mike in the Morning" show (
via ESPN
), Francona said he wasn't surprised the new manager nixed postgame beers after last season's late-season collapse that was blamed, in part, to starting pitchers drinking beer and eating fried chicken in the clubhouse during games.
"I don't think it's a surprise that they put this in effect, or the fact they announced it," Francona said on Monday. "It's probably more of a PR move just because, you know, the Red Sox [took] such a beating at the end of the year."
He's right, it's mostly a PR move -- but one that probably had to happen. Francona also said he wasn't sure it would curb players drinking.
"I think if a guy wants a beer, he can probably get one," Francona said. "You know, it's kind of the old rule … If your coach in football says no hard liquor on the plane -- I mean, you serve beer and wine -- somebody's going to sneak liquor on the plane. If you furnish a little bit, it almost keeps it to a minimum."
Francona, though, stopped short of criticizing Valentine's decision.
"You look back at this, these are guys that earned my implicit trust," Francona said. "You know, guys that we had won World Series with.
"So I probably felt different about it than a new guy coming in. And he certainly has the right to do what he wants, because he is new, and that's why you get different people."
For more baseball news, rumors and analysis, follow @EyeOnBaseball on Twitter, subscribe to the RSS feed and "like" us on Facebook.