By Evan Brunell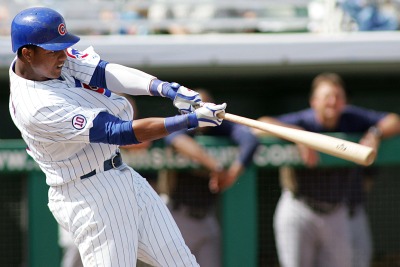 Saturday was a day full of star performances -- it was tough to whittle the list down to just three. Many of the stars were hitters, which comes as no surprise. Pitchers are only just now going deeper into games and transitioning from rounding everything into shape to competitively pitching while hitters are ahead of the curve.
3 UP
1. SS Starlin Castro, CHC: 3 AB, 2 R, 3 H, 4 RBI, 2 HR. Castro put on a power display Saturday, blasting two home runs and filling up the stat sheet. Castro is set to be the Cubs' starting shortstop in his first full season. While Castro impressed last season with a .300/.347/.408 line in 506 plate appearances, it was with just three home runs at age 20 and should add power over the next few years.
2. CF Jacoby Ellsbury, BOS: 3 AB, 3 R, 3 H, 3 RBI, 1 HR. Is Ellsbury a man on a mission to prove his detractors wrong after appearing in just 18 games last season and having his work ethic called into question? Now hitting .440 in spring training, Ellsbury could really turn heads if he returns to the lineup and builds upon his 2009 year (.301/.355/.415).
3. SP Zach Britton, BAL: 4 IP, 4 H, 0 R, 2 BB, 2 K. The Orioles have to be thrilled with Britton, who now has given up no runs in 10 innings this spring. He has zero chance of breaking camp with the team, partly due to the major-league rotation being full and partly because there's no reason to call him up until June at the earliest to delay free agency another year. But don't worry, O's fans: Britton's coming to Baltimore ... soon.
3 DOWN
1. CF Roger Bernadina, WAS: 4 AB, 0 H, 3 K. Mike Morse is slated to be the Nationals' starting left fielder, narrowing the outfield competition to just center field where Nyjer Morgan is attempting to hold off Rick Ankiel and Bernadina. Unfortunately for Bernadina, just one terrible game could be enough to put him squarely behind in the competition. Given Morgan's incumbency and Ankiel's history, Bernadina already faced an uphill battle before flirting with the golden sombrero.
2. SP R.A. Dickey, NYM: 5 IP, 6 H, 5 R, 5 ER, 4 BB, 3 K. Dickey's got a lock on a rotation spot, but if he doesn't perform up to snuff could be replaced in the season. Such is the life of a journeyman knuckleballer. He'll have these days from time to time -- but he can't have too many of them.
3. SP Carlos Silva, CHC: 5 IP, 5 H, 4 ER, 0 BB, 2 K. Poor Carlos Silva. This competition for the No. 5 spot in the rotation must really be getting to him. After the clunker against the Reds which featured five projected starters, Silva has a ghastly 16.20 ERA. He may have sealed his fate with this game.
For more baseball news, rumors and analysis, follow @cbssportsmlb on Twitter or subscribe to the RSS feed.