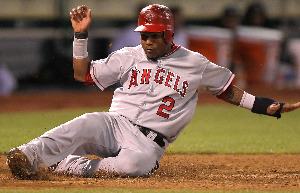 The hits just keep on coming for the
Angels
, who lost shortstop
Erick Aybar
for what could be an extended period of time on Monday.
Aybar left the Angels' game against the
Brewers
after
Casey McGehee
executed a takeout slide, causing Aybar to go down in a heap. He was able to hobble off while putting a little weight on the leg, which is encouraging news.
McGehee was on base after being hit by a pitch, likely in retaliation for teammate
Randy Wolf
's plunking of two Angels. McGehee was less than pleased with being plunked and his takeout slide of Aybar sparked uproar.
The Angels' official website said that Aybar suffered an hyperextended left knee. It is unknown how long Aybar will be out, but a DL stint is not out of the question as most injuries of this type require a period of rest. It is also possible that Aybar tore his ACL, which can happen on more forceful hyperextensions, but the severity of the injury has yet to be reported.
The injury to Aybar is the latest injury to befall a team struggling to deal with the losses of key players in free agency as well as the freak injury to
Kendry Morales
celebrating a walkoff grand slam.
Reports have linked
the Angels to
Paul Konerko
as a way to replace some thump in the offense, but even Konerko can't help the Angels with the loss of Aybar. He was hitting .272/.336/.352 on the season over 261 at-bats.
Maicier Izturis figures to slide over to third, leaving a vacancy open that
Kevin Frandsen
and
Brandon Wood
will likely fill. Wood is on the disabled list but will come off it at some point soon -- perhaps even switching places with Aybar -- and will try to reverse his struggles that have seen him go from a former top prospect to a bust.