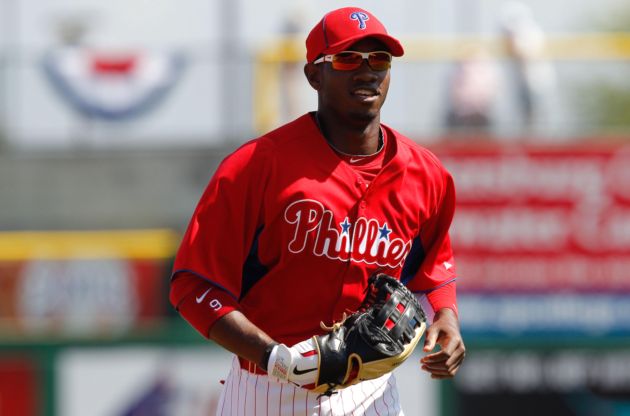 By C. Trent Rosecrans
After nothing but (deserved) rave reviews this offseason, reality is hitting the Philadelphia Phillies.
Still the favorite in the National League East, the same problem that kept them in a division race last season is popping up again -- injuries.
Chase Utley is already getting cortisone shots and, as our own Danny Knobler wrote it perfectly, if the Phillies are concerned -- and they're saying they're concerned -- it's not a good sign.
And now Domonic Brown is out with a broken hamate bone in his hand. Although Brown was struggling this spring -- hitless in 15 at-bats -- and was likely headed to Triple-A, he was still part of the team's plans for 2011.
The hamate injury is a tricky one -- he'll likely be able to play this season, but he won't be the same. Last year when I was around the Reds a bit, I talked to two players who were in different stages of the same injury. One, Yonder Alonso, suffered the injury in 2009, the other, Chris Dickerson, had the surgery during last season.
Dickerson was able to return and even played with the Reds and Brewers after the surgery. Alonso had the surgery in June of 2009 and was back that season, as well. However, the injury saps power. Alonso told me several times that the ball just didn't jump off his bat the same, what would be a double in the past wasn't getting past outfielders, and what was a homer in the past just died in the outfield. As doctors told him, about a year fate the surgery, his power was back.
Brown can return this season, but don't expect him to be the same player he has shown to be in the minor leagues and that he'll be in the future.
The Phillies are counting on Ben Francisco and Ross Gload to fill in for Jayson Werth until Brown is ready. Now they'll be counting on those two longer.
Pitching won't be a problem for Philadelphia, and it wasn't the problem last year. When the team got in trouble, it was injuries and offense. With uncertainly to the health of Utley and then general uncertainty with Jimmy Rollins, there's cause for concern in Philly.
That said, they're still the favorites, but maybe not quite the prohibitive favorites they were before.
STAYING PAT: The Yankees appear to be happy with the starters they have in camp -- CC Sabathia, Phil Hughes, A.J. Burnett, Bartolo Colon, Freddy Garcia, Sergio Mitre and Ivan Nova.
Brian Cashman tells the Boston Globe the team is unlikely to trade for a starter before opening day.
"Can't rule it out, but it's highly unlikely," Cashman said. "Normally anything of quality doesn't become available until after the June draft. That's why you try and get as much as you can get accomplished in winter."
HOT DOG RUN: Apparently because the team mom forgot the orange slices, after his stint in Saturday's game, Boston's Dustin Pedroia ducked out of the Red Sox clubhouse to the concession stand for three hot dogs.
"They probably didn't think he was a player," Red Sox manager Terry Francona told reporters, including the Providence Journal. "Did you see that outfit he had on? He looks like he's going into second grade."
NATS OPTIMISM: A scout tells Sports Illustrated's Jon Heyman (via Twitter) that Nationals right-hander Jordan Zimmermann is "back." He's throwing 94-95 mph with a "superb" slider. Said the scout, "if they had [Stephen] Strasburg, they'd be dangerous."
The Nats don't, but Zimmermann offers hope for 2012, as he had Tommy John surgery in August of 2009, a year before Strasburg.
AMBASSADOR GRIFFEY: Ken Griffey Jr.'s new job with the Mariners is to be an ambassador of sort, but before he does that, he served the same role for the U.S. State Department in the Philippines.
Griffey just returned from working with coaches and youth players in the Philippines.
USA Today's Paul White caught up with him last week before his trip. Griffey still refuses to talk about his exit from the game, but he'll likely be seen around the Mariners some this season. His new job requires about a month's worth of work with the team, doing a little bit of everything.
More importantly, he's being a dad. His daughter Taryn recently led Orlando's Dr. Phillips High School to the Florida girls basketball championship. Taryn Griffey, a freshman point guard, had 21 points in the championship game.
His son, Trey, is a junior safety and wide receiver who is being recruited, as well.
PIAZZA NOT BUYING Mets: Mike Piazza tells the New York Post he's interested in buying part of a baseball team "someday" but not now.
"I think everything is timing," Piazza said. "It's an interesting time in the game. There's a lot of change going on … but as far as anything on the forefront, there's nothing. Let's just say I talked to some people that are interested in getting into the game … It doesn't cost anything to talk. At least not yet."
NO PANIC FOR Braves: Atlanta's 23-year-old Craig Kimbrel has the inside track to replace Billy Wagner as the Braves' closer, but he's not been very good so far this spring. He's struggled with his command and has allowed four runs and six hits in three appearances this spring.
"If there is a trend like this later in the spring, then you start worrying about it," manager Fredi Gonzalez tells MLB.com. "But not right now."
CAIN FEELS BETTER: Giants pitcher Matt Cain played catch for about eight minutes on Saturday and felt no pain in his right elbow.
Cain was scratched from his last start and won't make his scheduled start on Tuesday, either. (MLB.com)
PIONEER LAID TO REST: About 500 people reportedly attended the funeral of Wally Yonamine in Hawaii on Saturday, according to Sanspo (via YakyuBaka.com). A memorial service will also be held in Tokyo later this month.
Yonamine, the first American to play professional baseball in Japan, died earlier this week at 85. The New York Times had a good obituary earlier this week, and a column in the Honolulu Star Advertiser shed light on how Yonamine dealt with death threats and other pressures when he started playing in Japan.
However, Yonamine became a star in Japan and was elected to the Japan Baseball Hall of Fame in 1994. He was also the first Asian-American to play in the NFL.
NOT THAT IT'S GONNA HAPPEN: But contraction isn't going to happen.
Union chief Michael Weiner tells the St. Petersburg Times that the union will fight any attempt to contract teams.
"Having been in bargaining in baseball since the late 80s, anything is fathomable, so we don't either take anything for granted or rule anything out," Weiner said. "All I would says is if that changes, if contraction becomes a goal of the owners in this negotiation, the tenor of the talks would change quickly and dramatically."
Bud Selig tells the Los Angeles Times it's not a goal for the owners, and it's certainly not a fight they want to take up.
For more baseball news, rumors and analysis, follow @cbssportsmlb on Twitter or subscribe to the RSS feed.