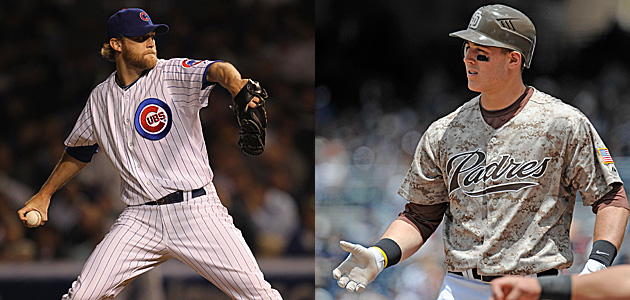 By Matt Snyder
The
Cubs
have traded highly-touted pitcher
Andrew Cashner
along with outfielder Kyung-Min Na to the
Padres
for highly-touted first baseman
Anthony Rizzo
and pitcher Zach Cates, the clubs announced Friday.
This deal is very notable for two particular reasons. First of all, it's a continuation of both teams' complete offseason makeovers under new leadership. That is especially interesting in this particular trade, because the Padres have a new general manager specifically because the Cubs do. Once Theo Epstein took over as Cubs team president, he hired Padres GM Jed Hoyer to be the new Cubs GM.
The second interesting part of this trade is that both (main) players are guys who have been ranked as top 100 prospects in baseball and haven't yet had long enough stints in the majors to see what they're capable of in the long term.
Cubs, Padres offseason trades
Rizzo, 22, was the major piece in the trade that sent
Adrian Gonzalez
to Boston, but new Padres' general manager Josh Byrnes seemed ready to move on from Rizzo after acquiring
Yonder Alonso
from the
Reds
in the
Mat Latos
trade.
"The acquisition of Yonder Alonso provided us the flexibility to make this trade and acquire a quality, young power arm in Andrew Cashner," said Byrnes in a release. "We are happy to add a pitcher with the pedigree of Cashner and an outfielder with the athleticism of Na."
Cashner, 25, was the Cubs' first-round pick in 2008. He's a hard-throwing right-hander. He won the Cubs' fifth starter job out of spring training last season, but injured his rotator cuff during his first start of the season and was unable to come back until September. On the season he had a 1.69 ERA and 0.66 WHIP with eight strikeouts in 10 2/3 innings. It's worth noting that he's moving to Petco Park, one of the most pitcher-friendly parks in the majors.
But questions remain. Can he really be a starter, or just a one-inning reliever? His rotator cuff issue last year worried some. And on a conference call Friday afternoon, Byrnes said Cashner will be a reliever in 2012. Perhaps an eighth-inning setup man for
Huston Street
, but Byrnes said he's not ready to anoint Cashner with that role just yet.
Rizzo hit .331/.404/.652 with 26 homers and 101 RBI in 93 Triple-A games last season, but struggled mightily in his 153 major-league plate appearances (.141/.281/.242). He certainly benefits from moving out of Petco Park and into Wrigley Field, of course. It's extremely unlikely the Cubs would trade Cashner for Rizzo and still make a run at
Prince Fielder
, so those rumors need to die now. As for any
Bryan LaHair
fans, we have good news. Hoyer said on a conference call that Rizzo will open the season in Triple-A and LaHair will be the first baseman on opening day.
As with Cashner, Rizzo has questions as well. Is his swing too long to be a star in the majors? What did Byrnes and other Padres' front-office people see that made them want to pounce on Alonso and deal Rizzo so quickly?
Still, for now at least, this deal seems to make a good deal of sense for two ballclubs trying to completely alter the franchise.
The other two players involved appear to be throw-ins. Cates, 22, was 4-10 with a 4.73 ERA and 1.36 WHIP last season in Class A. Na, 20, hit .268/.358/.312 with 20 stolen bases in 83 games across four levels last season -- with most of his time spent between Rookie Ball and Class A.
For more baseball news, rumors and analysis, follow @EyeOnBaseball on Twitter, subscribe to the RSS feed and "like" us on Facebook.