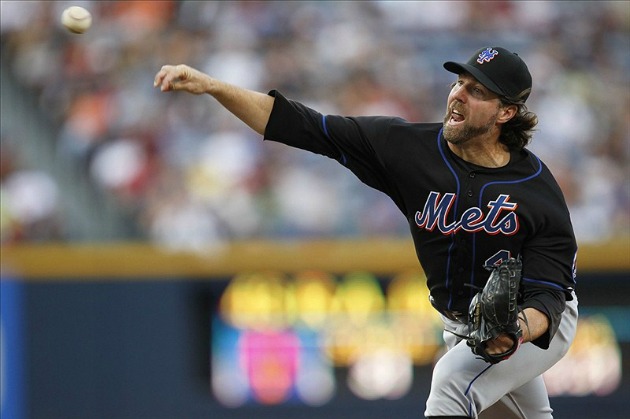 By C. Trent Rosecrans
Earlier this offseason we noted Mets pitcher R.A. Dickey was planning on climbing Mt. Kilimanjaro in January and at the time Dickey said the Mets had "concerns."
In an article in Tuesday's Wall Street Journal, Mets general manager Sandy Alderson confirmed the team sent Dickey's agent a letter letting him know the team could void his contract if he were injured on the climb.
"If we thought it was a good idea, we wouldn't have sent the letter," Alderson told the newspaper. "Beyond that, have we trided to dissuade him from going? It seems to me that the letter is enough of an effort to dissuade him, and he intends to go on nonetheless."
Dickey is set to make $4.5 million in 2012, but he doesn't sound worried -- "it's not like it's Everest."
However, the report notes Martina Navratilova was diagnosed with pulmonary edema after being taken off the mountain on a stretcher.
The 37-year-old knuckleballer will be joined on his trip by Mets bullpen catcher Dave Racaniello and Rockies pitcher Kevin Slowey, as the trio uses the climb to raise money and awareness for Bombay Teen Challenge, which helps victims of sex trafficking in India. While the Mets are right to have their concerns, it's nice to see a baseball player using this kind of off-season trip to raise money for a charity and then sticking to his plan despite his team's concerns and willing to suffer the consequences if things go wrong.
For more baseball news, rumors and analysis, follow @EyeOnBaseball on Twitter, subscribe to the RSS feed and "like" us on Facebook.