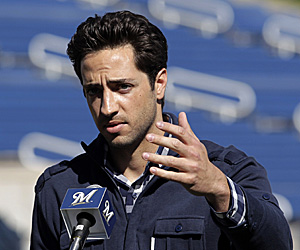 By Matt Snyder
Many were impressed by exhonorated
Brewers
left fielder
Ryan Braun
's press conference Friday. Victor Conte wasn't one of those people.
Conte founded the Bay Area Laboratory Co-operative ("BALCO") and served time in prison after pleading guilty to conspiracy to distribute steroids and money laundering charges back in 2005. And he's not buying what Braun is selling.
Ever since the appeal decision was reported Thursday afternoon, Conte's been firing off tweet after tweet (
@VictorConte
) in an attempt to make everyone believe that he knows Braun used a "fast-acting testosterone." Here are a few examples:
• "My opinion. Floyd Landis case like Braun case. A & B samples w/ elevated T/E ratio. CIR confirms 'synthetic' testosterone. Lots of smoke"
• "[CIR confirmation is] Carbon Isotope Ratio tests for synthetic vs natural testosterone. Nail in coffin."
• "I believe fast acting testosterone use is rampant in MLB. Even 4 to 1 T/E ratio is easy to beat. CIR screening is needed on all samples"
• [in reply to someone calling him a "joke"] "Maybe the truth about the Braun case is the joke"
• "My opinion. Braun's positive test for testosterone was not overturned. Simply a procedure error was made by MLB. Braun tested positive."
There's more, but I'd rather not continue to give this guy his due. I found the last one I listed especially funny, as he stated that "Braun tested positive" as if that was some sort of revelation. Of course Braun tested positive. That wasn't in question. Braun even discussed that his test came up as positive. The question was whether or not the sample was a legitimate, untainted sample. Conte seems to believe he has all the information here -- as if he was in the lab -- and when someone uninvolved with the process acts like the ultimate authority on the matter, that always feels a bit much for me. I'm not going to pretend I know exactly what happened, but I do know a third-party arbitrator saw all the evidence and sided with a player for the first time ever. Conte believes he knows better.
Hey, to each his own. Feel free to give as much or as little credibility to Conte's tweets as you wish. We're simply passing them along.
For more baseball news, rumors and analysis, follow @EyeOnBaseball on Twitter, subscribe to the RSS feed and "like" us on Facebook.