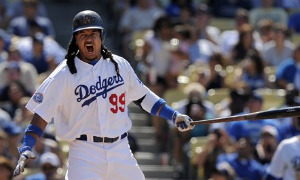 There won't be any Green Monster bathroom breaks for
Manny Ramirez
in his return to Fenway Park on Thursday.
Ramirez will likely be the designated hitter in all three
Dodgers
-Red Sox games, manager Joe Torre
toid reporters
on Thursday.
"That's my plan going in," Torre said. "I really haven't talked to him about it. I sort of threw it out there to him last night. I think it's probably the best thing just to keep him in the lineup for three games."
Torre said that the potential treatment of fans in the stands didn't impact his decision to DH the slugger, but viewed it as an added bonus.
Looking at it strictly from a baseball decision, DHing Manny is the sensible move. No one's ever going to confuse him for a Gold Glover out in the field. While Ramirez will likely be replaced by Garrett Anderson in the field, who is no defensive whiz himself, any chance to keep Manny off the field is a good thing.
In addition, Manny is not getting any younger. Any chance Torre can get to rest Ramirez and keep his bat in the lineup, he should take. Despite Manny's pedestrian (for him) seven home runs on the year, he's still one of the Dodgers' best hitters and needs to stay fresh all season if LA hopes to make a deep playoff run.
-- Evan Brunell

For more baseball news, rumors and analysis, follow @cbssportsmlb on Twitter.