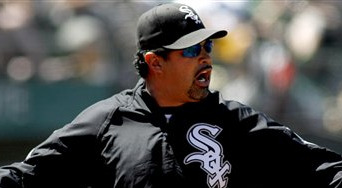 The fallout from Ozzie Guillen's
contention that Dominican players are not treated as well as Japanese players
continues.
After the
White Sox
publicly disagreed
with Guillen's thoughts,
Alfonso Soriano
of the
Cubs
chimed in by agreeing with Guillen that non-English speaking players should have interpreters.
"I think that's good, because we have an example here with [Starlin] Castro," Soriano
told
Paul Sullivan of ChicagoBreakingSports.com. "We have Ivan DeJesus as a coach, and he's the translator for Castro, so we've got someone so the players can be more comfortable talking with a guy who understands the language."
Soriano did point out, however, that if he was to return to Japan, he would bring his own interpreter with him. It is commonplace for Japanese players to have an interpreter stateside, while Dominican players -- who generally sign young and go through the minors, as opposed to Japanese players -- attend classes.
"That's the difference, because they come here like a man, not a kid," Soriano said of Japanese players. "If you see the way Dominicans or Latins come to the United States, they come like 19-year-olds and they have time to learn. But if you see Japanese players, they already played in the [Japan League] and they want to feel comfortable and make a lot of money and have guys work for them just because that's what they do in Japan. They don't have time to learn [English]."
Although Castro requires an interpreter, Soriano hopes he will eventually learn English. When closer
Carlos Marmol
made his major-league debut in 2006, he did not speak English. However, he does now and regularly communicates with reporters and teammates in English.
-- Evan Brunell
For more baseball news, rumors and analysis, follow @cbssportsmlb on Twitter.