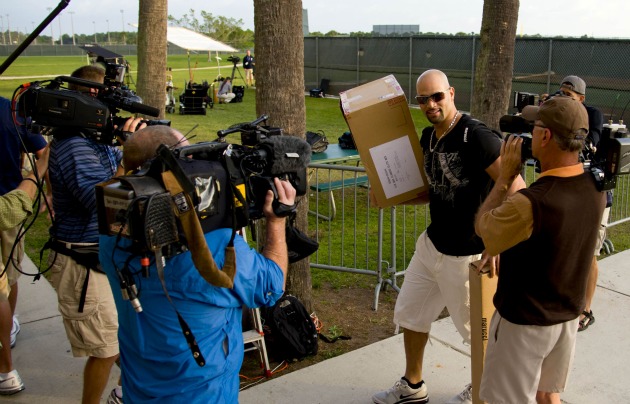 There's a lot left to be said about the
Albert Pujols
negotiations, but the question I've had is what exactly is the fan reaction going to be to him this season? Could the great Pujols actually be booed at home?
Now, if it were any other city other than St. Louis, I don't think I'd wonder this -- I'd expect this. However, St. Louis is America's great baseball city. Not only does the town pride itself on its baseball knowledge, but also the way it treats the
Cardinals
as a whole and as individuals. Go to Busch Stadium and you'll observe a baseball crowd that loves baseball. And Albert was their king.
Now, though, could it get nasty that he's had a chance to prove his undying love and devotion and decided instead to possibly shop around?
The
St. Louis Post-Dispatch asked fans if Pujols would still be a Cardinal in 2012
, AS of 8:30 a.m., 35 percent said he would be, 32 percent said no, and 33 percent answered "I know [sic] longer care]." To no longer care about Albert Pujols in Cardinal red in St. Louis is akin to being an atheist at Vatican City.
Here are some of the comments from the newspaper's website: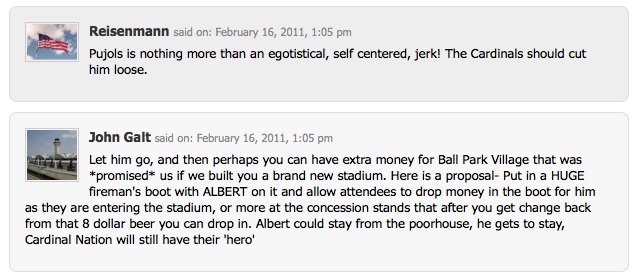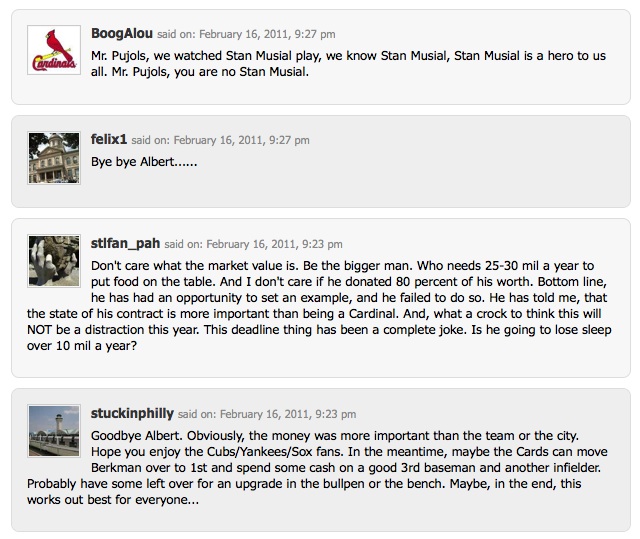 There are also less dignified responses (from a comment section of a website? I know, shocking) calling Pujols out because of his background and also his outspoken Christianity, as well as those making the apple-oranges comments about our current economic state and a baseball player's salary (if you haven't noticed, they're not connected.) In fairness, there were also messages in support of Pujols and the Cardinals and some reasoned debate, but in a crowd of 43,975, that's not always who is heard.
So, when opening day rolls around in St. Louis on March 31 against the
Padres
and the third Cardinal batter comes to the plate, what will the reaction be? Could a St. Louis icon be booed in St. Louis? We'll see (or hear).
MUST READ:
Former
Phillies
manager Dallas Green talked to reporters yesterday about the loss of his granddaughter, Christina Taylor Green. Here's the
report from the Seattle Times ' Larry Stone
.
If this didn't get you, you have no heart -- "John called her princess, and I did, too. She was our angel."
NOW ABOUT THOSE OTHER FOUR SPOTS:
Wednesday,
Dodgers
manager Don Mattingly named
Clayton Kershaw
his opening-day starter.
Vicente Padilla
started Los
Angels
' opener last season. Kershaw will face
Tim Lincecum
in the opener -- not a bad matchup. (
Los Angeles Times
)
YEAH, HOW COULD THAT GO WRONG?:
Cubs
outfielder
Marlon Byrd
is standing by his decision to work with BALCO found Victor Conte.
"Instead of me being dumb and just keep trying different things, I went to reach out to somebody so I didn't test positive," Byrd
told reporters, including the Chicago Sun-Times
.
Yeah. Good idea.
NO, A REALLY GOOD IDEA:
If you have an iPad, check out this awesome-looking
iPad app called Pennant
. Seriously, while watching the video, I grabbed my iPad and plunked down my $4.99. If you're the type who can get lost in retrosheet.org, this looks great.
TRIBUTE TO TANNER:
The
Pirates
will find ways to honor former manager Chuck Tanner, but they haven't exactly figured it out yet,
writes Rob Biertempfel of the Pittsburgh Tribune-Review
. The team will honor him on opening day and the team is likely to wear a patch. The
Reds
and
Tigers
will wear a patch honoring former manager Sparky Anderson this season.
UNCLE ORLANDO:
Orlando Cabrera
, one of the most entertaining interviews in baseball, officially joined the
Indians
on Wednesday. The long-time shortstop looks to be the everyday second baseman, joining with "nephew"
Asdrubal Cabrera
in Cleveland. (
MLB.com
)
THE MORE YOU KNOW:
Baseball America
's always-entertaining
minor league transactions
.
PLEASE NO:
One of my favorite people I've ever met in baseball was the late Ernie Harwell. I was lucky enough to interview him once and will always treasure that.
However, I don't think it's an easy way to make a buck -- Mitch Albom, sportswriter-turned-sap producer, is
going forward with a play based on Harwell's life
. I'll keep my own memories of Harwell, thanks.
SORIANO'S TRAINING:
The Onion on
Alfonso Soriano
:
EVEN IF ALBERT LEAVES:
Buck up St. Louis,
you'll always have beer
.
And if that doesn't help, how about
Adrianne Palicki as Wonder Woman
? I'd lie just to get lassoed for the truth.
-- C. Trent Rosecrans
For more baseball news, rumors and analysis, follow @cbssportsmlb on Twitter or subscribe to the RSS feed.