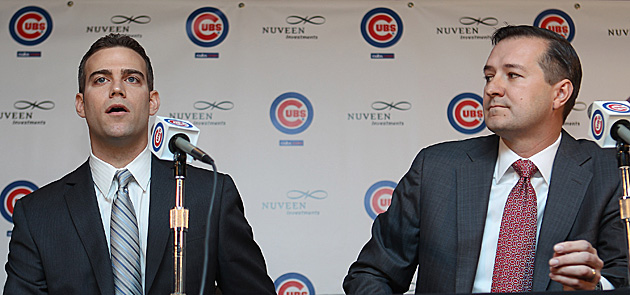 By Matt Snyder
Back when the
Cubs
first hired Theo Epstein to be the club president, I wrote that we shouldn't expect to see a short-term fix to a currently badly flawed team and organization. "The band-aid-on-a-broken-leg approach got Jim Hendry fired, so there's no way [Cubs chairman] Tom Ricketts would hire Epstein to do the same thing,"
I wrote
.
It's now a few months later and we've seen a bevy of moves by Epstein, but none of them are big names.
David DeJesus
,
Ian Stewart
,
Travis Wood
,
Andy Sonnanstine
and
Manny Corpas
will hardly be mistaken for
Jose Reyes
,
Albert Pujols
,
Jonathan Papelbon
and
C.J. Wilson
anytime soon.
In that same article I referenced above, I wrote that Epstein had three possible routes to take in building the Cubs. I incorrectly guessed he'd try to win now while also building the foundation. Instead, Epstein and general manager Jed Hoyer have elected to take the long, slow rebuild route. It would appear any veteran with trade value is going to be dealt (
Matt Garza
and
Marlon Byrd
likely the next two, while one would expect the likes of
Carlos Marmol
,
Geovany Soto
and
Ryan Dempster
to be available by the trade deadline in July) as
Sean Marshall
already has been.
Now, it's awfully tough to tell a fanbase that has never seen a World Series championship (I mean, there can't possibly be a 110-year-old Cubs fan that remembers when he was seven, right?) to be patient, but that's how it has to be. The franchise needed a complete overhaul, and the process has begun. Give Ricketts credit for hiring a guy and giving him enough leeway to take as long as he needs to rebuild the organization. In return, the fans need to be patient and keep their eyes on the prize. Ricketts, Epstein and Hoyer are trying to slowly build one of the best farm systems in the majors while also being able to put together a massive payroll that dwarfs those of the competitors in the NL Central.
One would expect most fans to be open-minded about the situation. Thankfully, I couldn't find any "fire Theo Epstein" boards on the Internet (at least not from his Cubs perch) just yet. Our @EyeOnBaseball Twitter account did receive a deluge of messages from a disgruntled fan last week, though. The fan wanted Epstein fired immediately because he didn't sign Pujols and
Mark Buehrle
while also keeping
Aramis Ramirez
. I'm betting this kind of short-sighted sentiment is in the minority, but let's be realistic here. The Cubs were 71-91 last season. They have a mediocre farm system. Any attempt to make a quick fix would handcuff the franchise.
Let's keep all of this in mind when the 2012 Cubs suck. Any they will. They are going to be
really
bad. Any veteran performing well will probably be flipped to a contender in July (picture the
Astros
last season trading
Hunter Pence
and
Michael Bourn
while also shopping
Wandy Rodriguez
and
Brett Myers
). The fans who abandon the Cubs after a bad 2012 season aren't the real ones. The fans calling for the heads of Ricketts, Epstein and Hoyer aren't the ones with foresight. No, the real fans are the ones who will realize it's a rebuilding process and that the new braintrust is building the foundation through all these trades and can expect a top five overall draft pick in 2013. Also realize the Cubs, who can likely afford a player payroll of $150 million, only have $33.05 million committed in salaries in 2013 (
Cot's Contracts
).
Remember, this is a process. It's one that will likely transform the Cubs into a major player in the National League landscape -- possibly by as early as 2013. You don't change a century-plus loser into a winner by spending money like Montgomery Brewster (
who, funnily enough, wore a Cubs jersey
) just to fill two or three of dozens of holes. For now, the Cubs are a sleeping giant. In a few years, they might just be the Evil Empire of the NL Central.
As for the fans, listen to Axl Rose: "All (you) need, is just a little patience."
For more baseball news, rumors and analysis, follow @EyeOnBaseball on Twitter, subscribe to the RSS feed and "like" us on Facebook.