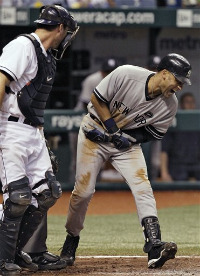 There are two reasons the tempest over
Derek Jeter
's fake hit-by-pitch Wednesday will remain in its teapot: The
Yankees
didn't win the game, and it was Jeter.
In case you missed it, the rubber game of the big Yankees-Rays series appeared to turn on an Oscar-worthy performance by Jeter when a seventh-inning pitch hit the knob of his bat. The ball stayed fair and was fielded for what would have been an out, but the Yankees shortstop grimaced like he'd been shot, and was awarded first base.
Rays
manager Joe Maddon argued
and was ejected,
and -- naturally --
Curtis Granderson
followed by hitting a two-run homer to put the Yankees up 3-2. Thankfully for the Rays,
Dan Johnson
came to the rescue with a second two-run homer to give Tampa Bay a 4-3 win and make the Jeter play a non-issue.
Jeter joked about the play after the game. When asked what the histrionics were about, he
answered
"Vibration. And acting."
He said he was just taking
advantage
of an opportunity for a free base in a big game.
"My job is to get on. They said it hit me, and I'm not going to argue."
When considering whether Jeter was being a gamer or a weasel, think about this: What would the reaction be if it had been
Alex Rodriguez
? It would be a repeat of
The Slap.
But with Jeter being Jeter, and because the play didn't determine the game's outcome, the phantom HBP will likely fade out after the usual New York media mini-storm.
-- David Andriesen
For more baseball news, rumors and analysis, follow @cbssportsmlb on Twitter or subscribe to the RSS feed .