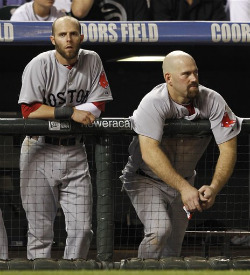 When
Kevin Youkilis
is out of a game for the
Red Sox
, he's a constant presence on the dugout railing. In fact, Boston's railing has been packed with injured players this season (including, pictured,
Dustin Pedroia
and Youkilis).
One exception is outfielder
Jacoby Ellsbury
, who has been away from the team for a month recovering from broken ribs. Ellsbury chose to rehab at a training facility in Arizona rather than stay with the team, prompting
plenty of questions
and hints that Ellsbury might be soft or not be a team guy.
The organization and Ellsbury's teammates have publicly supported him, but first baseman Kevin Youkilis broke ranks Thursday
in an interview
on WEEI. Youkilis said Ellsbury, who will rejoin the team Friday, should have been on that railing with everybody else.
"Jacoby's coming back now, so hopefully he can cheer us on. I don't know what went on there," said Youkilis. "I think that was more his agent (Scott Boras) and the Red Sox, but it's very important. As a player, it doesn't matter if you're hurt or not. You should be out there cheering on your team. … It's good that he's coming back. Hopefully he's out there cheering on the team, and hopefully he'll get healthy and help the team."
We'll see how the statement affects the relationship between the players, but there are bound to be other Red Sox players who are privately cheering Youkilis for speaking out.
-- David Andriesen

For more baseball news, rumors and analysis, follow @cbssportsmlb on Twitter.