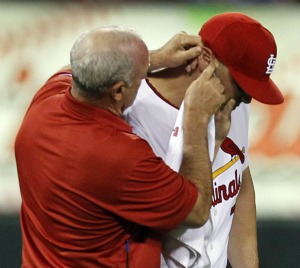 By C. Trent Rosecrans
Cardinals
left fielder
Matt Holliday
abruptly left the team's game against the
Dodgers
in the eighth inning and as
Corey Patterson
readied to enter the game in his place, it appeared second baseman
Skip Schumaker
told the bench a moth flew in Holliday's ear.
Holliday was seen holding his right ear.

"He had a moth fly into his ear, deep into his ear. I don't even know what happened to it," St. Louis manager Tony La Russa told the Associated Press.

According to the team, Holliday was then taken into a dark room and trainers put a light by his ear in an attempt to lure the moth out of his ear. That didn't work, so they used a tool to get the moth -- that was still alive -- out of his ear.

Holliday was not in the clubhouse for comment after the game, according to the AP.
It's been a strange year for Holliday, who underwent an emergency appendectomy the first week of the season and has dealt with several other injuries, going on the disabled list once for a quad injury. However, between injuries he's been as good as ever, hitting .306/.406/.542 with 18 homers. He was 0 for 3 on Monday.
The first pitch after Holliday left was hit into left by Matt Kemp, but Patterson made the easy catch.

Patterson was then batting in Holliday's fourth slot in the order and second in the ninth after the Dodgers scored two in the inning to take the lead. With one out, Patterson grounded out for the second out of the inning. The Cardinals lost, 2-1.
For more baseball news, rumors and analysis, follow @eyeonbaseball on Twitter or subscribe to the RSS feed.