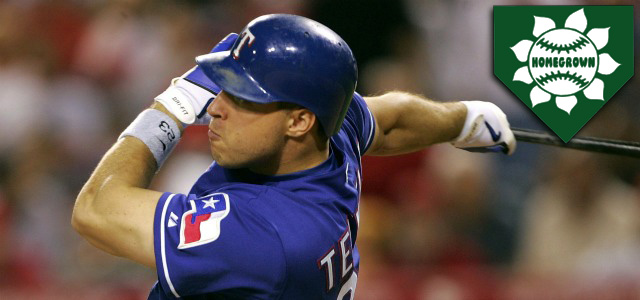 By C. Trent Rosecrans
What if players were only permitted to stay with the team that originally made them a professional? No trades, no Rule-5 Draft, no minor or major league free agency ... once you are a professional baseball player, you stay in that organization. This series shows how all 30 teams would look. We give you: Homegrown teams.
To view the schedule/past entries of this feature, click here.
The
Rangers
are in an interesting position in the franchise's history -- no longer a middle-of-the-road team, the Rangers have turned themselves into one of the game's biggest players. The team has reached the last two World Series with a mixture of homegrown players (
Ian Kinsler
,
C.J. Wilson
,
Alexi Ogando
), savvy trades (sending
Mark Teixeira
to Atlanta for a haul that included
Elvis Andrus
and
Neftali Feliz
, plus the deal with the
Reds
getting
Josh Hamilton
) and big-ticket free-agents (
Adrian Beltre
). It's tough to argue with the results, as the Rangers have positioned themselves into becoming one of the top teams in baseball and don't appear to be going anywhere anytime soon.
Lineup
1. Ian Kinsler, SS
2.
Craig Gentry
, CF
3. Mark Teixeira, 3B
4.
Carlos Pena
, 1B
5.
Travis Hafner
, DH
6.
Edwin Encarnacion
, 2B
7.
Laynce Nix
, RF
8.
John Mayberry
, LF
9.
Taylor Teagarden
, C
Starting Rotation
1. C.J. Wilson
2.
John Danks
3.
Derek Holland
4.
Colby Lewis
5.
Ryan Dempster
Bullpen
Closer -
Joaquin Benoit
Set up -
Darren Oliver
,
Nick Masset
,
Scott Feldman
,
Jesse Chavez
,
Yoshinori Tateyama
Long -
Tommy Hunter
Notable Bench Players
Ivan Rodriguez
will be in discussion for the Hall of Fame when his career ends, but he's now a backup catcher and could be a good one. You have a pair of first baseen in
Justin Smoak
and
Mitch Moreland
who aren't going to strike fear into too many pitchers, as well as two outfielders probably better defensively or as pinch runners in
Jason Bourgeois
and
Scott Podsednik
.
What's Good?
The rotation is deep -- in addition to the five listed, you could also throw in
R.A. Dickey
,
Aaron Harang
and
Edinson Volquez
. And while there's no real shut-down closer, there are some very good bullpen arms, and the list above doesn't include
Blake Beavan
,
Josh Lueke
and
Danny Herrera
.
What's Not?
Besides Kinsler and Teixeira, the lineup is suspect. And the defense is worse. The outfield is kind of a hodgepodge, while the infield is a disaster with only Carlos Pena playing in his usual position. While Teixeira hasn't played third base since his rookie year in 2003, Kinsler has never played shortstop, nor has Encarnacion ever played second base -- but there just wasn't a whole lot of options. The outfield doesn't have the likes of Hamilton or
Nelson Cruz
to help out, either.
Comparison to real 2011
Would this team wind up in World Series? Not bloody likely. The pitching is fine and even maybe an slight upgrade to the team that won the American League pennant again in 2011, but that lineup is demonstratively worse. The Rangers were third in baseball in runs and second in OPS, and without Hamilton, Cruz,
Mike Napoli
,
Michael Young
and Beltre, this squad isn't going to do anything close to that. Teixeira is a good player -- and Pena could put up big homer numbers in that ballpark -- but those losses from the real squad are just too much to overcome. This team is maybe a .500 squad, at best, and that's only because of the depth in the pitching staff.
Next:
St. Louis
Cardinals
For more baseball news, rumors and analysis, follow @eyeonbaseball on Twitter or subscribe to the RSS feed.