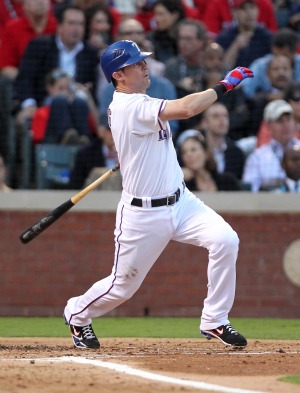 The Rangers, despite all denials to the contrary, continue to explore a way to trade Michael Young, reports ESPN's Buster Olney.
And yep -- the Rockies are yet again one potential destination.
Despite Young's .280/.330/.444 mark with 21 homers, the lifelong Ranger (except for that whole coming up in the minors with the Blue Jays thing), could be on the move thanks to his contract, which has three years and $48 million remaining.
With the inking of Adrian Beltre, Young is expected to become the primary DH as well as play all over the infield. However, Young's bat doesn't quite translate to being a DH. Texas would likely prefer to shed its commitment to Young and bring Vladimir Guerrero back to DH.
Any deal of Young, though, would have to include Texas covering an ample amount of dollars. At this point, Young simply can't field (although he would be asked to do that in Colorado or likely any other place) and after five straight seasons of a batting average over .300, the 34-year-old has dropped below that mark in two of the last three years. Three years and $48 million is an awful lot to commit to someone who shows signs of declining and can't field.
But the Rockies have been linked to Young all offseason, and it's hard to fault them for that. For all of Young's deficiencies, he still remains an above-average contributor to a playoff club and the Rockies are one such team eager to play again in October. While Young could displace Ian Stewart at third, it is far more likely Young would take over the second base job, which is currently an open competition between Eric Young, Jr., Javier Herrera and Jose Lopez.
Colorado and Texas accomplished enough at the winter meetings in trade discussions that both sides have a good idea of what it would take to finish a deal -- but unless there are concessions made, there won't be any trades.
Other teams that might have interest could include the Toronto Blue Jays, who could slot Young in at third and keep Jose Bautista in right. How about the Angels, who still have money to burn and no one worthy of standing in Young's way at the hot corner?
Could Detroit jump into the fracas and make Young the starting second baseman to boost the offense? Florida would make a lot of sense here, but the Marlins seem committed to prospect Matt Dominguez and the money is prohibitive. The Cubs could also come to play and boot Blake DeWitt from second base back to the bench, or the Giants could import Young to battle with Pablo Sandoval at third and Freddy Sanchez at short. And you can't rule out the Dodgers replacing Casey Blake at third and making Blake a super-utility player which is a position he is best for at this point anyways.
Lots of options. But in the end, it all depends how much money each respective team can afford to take on.
-- Evan Brunell
For more baseball news, rumors and analysis, follow @cbssportsmlb on Twitter or subscribe to the RSS feed.