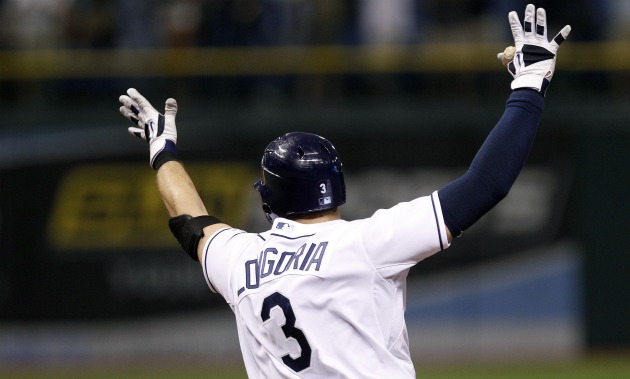 By Evan Brunell

The morning after baseball's latest contender for the most exciting final day of the regular season, we're left trying to figure out just which of the improbable, impossible events that led to a night to remember was best.
Rays
coming back from 7-0?
Evan Longoria
whacking a three-run home run to pull the Rays within one? How about
Dan Johnson
, he of a .167 batting average in 260 plate appearances over the last
four years
jacking a game-tying home run in the ninth? What about Evan Longoria's game winner, shades of Mark McGwire's 62nd home run?
But there were plenty of other memorable plays. How about
Robert Andino
shocking the Sox with a game-winning single in the ninth? Or earlier in the game, when
Dustin Pedroia
whacked a homer to give the Sox a lead? The
Phillies
sending a dagger in the hearts of
Braves
with a
Hunter Pence
RBI single in the top 14th? But
Craig Kimbrel
, he of 40 saves on the year, had to blow the game for Pence to walk off. Similarly,
Jonathan Papelbon
imploded for the
Red Sox
, handing Baltimore the victory. The
Cardinals
razed their way to a 8-0 win, but how huge was St. Louis' five-run first on the strength of five run-scoring hits?
There are no shortage of amazing plays or occurrences from Wednesday night. We ask you: Which one was the best?




For more baseball news, rumors and analysis, follow @EyeonBaseball on Twitter or subscribe to the RSS feed.