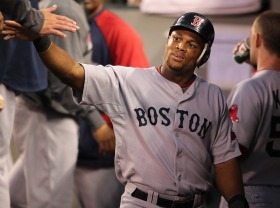 After the A's
dropped out
of the bidding for Adrian Beltre (and rightfully so, the way he's given them the cold shoulder for two years), we are down to two teams that are known to have interest: the
Angels
and
Rangers
.
Or is it actually just one team? As T.R. Sullivan of
MLB.com
writes, there are multiple reasons the Rangers might be more of a negotiating piece than an actual suitor for Beltre. For one thing, making the division rival Angels -- who are thought to be desperate to make an impact move after coming up pretty much empty this winter -- bid against themselves benefits the Rangers. That's not even to say the Rangers are doing it on purpose, as this could be agent Scott Boras leveraging some unknown level of Texas interest in Beltre to drive up the price.
The other way a phantom pursuit of Beltre would benefit the Rangers is in their ongoing negotiations to bring back designated hitter
Vladimir Guerrero
, who has not found a match in his push for a multi-year deal. The Rangers want him to accept a one-year deal to return, and having the unspoken "hey, we have other offensive options" factor out there could motivate Guerrero to sign on before the Rangers run out of money and needs.
Of course, there's also the question of what the Rangers do with
Michael Young
should they land Beltre. As Sullivan points out, keeping both of them in some combination of third base/first base/designated hitter would cost at least $30 million, or about a third of the Texas payroll (and definitely rule out Guerrero's return). The Rangers were quick to squash rumors they were trying to trade Young at the Winter Meetings.
Of course, this is all specualtion, but absent any actual news from the Beltre camp that's all we've got at this point.
-- David Andriesen

For more baseball news, rumors and analysis, follow @cbssportsmlb on Twitter or subscribe to the RSS feed.