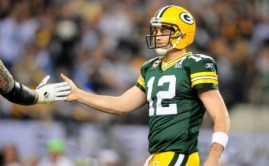 Posted by Josh Katzowitz
You want to know how dedicated
Packers
QB
Aaron Rodgers
– coming off his Super Bowl-winning season – is to keep off the extra weight? He's willing to give up his ultimate gastronomical pleasure.
That'd be Starburst jelly beans.
But his discipline, even in the face of a lockout that has kept him from working out at Green Bay's team facility and practicing with his teammates, has led him to a lofty accomplishment.
He told ESPN Milwaukee radio, via the
Green Bay Press Gazette
, that he's lost 10-12 pounds because of a healthier, jelly bean-less diet.
"After the Super Bowl and all that stuff, I probably had got into the low 230s, which is not abnormal," Rodgers said during a recent radio interview. "I love eating, and I love sweets, and I love hamburgers and steak and potatoes. And I just wanted to be a little bit healthier, starting this offseason. So I started working with a guy who knows nutrition."
And you know what? Rodgers feels healthier.
"When I'm eating right, my energy level spikes, and I have energy all day and I feel better," he said.
For more NFL news, rumors and analysis, follow @cbssportsnfl on Twitter and subscribe to our RSS Feed.