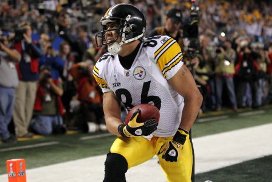 Posted by Josh Katzowitz
While many have wondered how the
Steelers
will deal with some older players not performing well, especially in the wake of their four-touchdown loss to the
Ravens
last week, Warren Sapp had no problem giving his honest opinion.
And now that Steelers receiver
Hines Ward
has had a chance to respond, Ward decided he wouldn't respond to Sapp in such harsh tones.
On Showtime's "Inside the NFL" this week, Sapp said, "The Pittsburgh Steelers. I have three things: old, slow and it's over. It's just that simple.
James Harrison
told us that he was 70-to-75 percent. It looked more like 40 percent to me if you are looking at the ballgame I was looking at. And Hines Ward, Mercedes Sapp can cover Hines Ward right now. You have to be kidding me ... Mercedes is my 13-year-old daughter. She will cover Hines Ward in a heartbeat.
"And
Troy Polamalu
, Ed Dixon runs this crossing route. Troy Polamalu is trying to grab him to have a pass interference and he can't even get close enough to grab him. [It] looked like he was dragging a wagon behind him. Touchdown Baltimore. Pittsburgh Steelers done."
Mr. Ward, your retort, please?
"I don't have a reaction to that," Ward told 93.7 The Fan in Pittsbrugh, via
sportsradiointerviews.com
. "He can bring his 13-year old daughter out there and see if she can cover me if she wants to. I don't have a reaction to that. People are always going to say something. As far as the team being old? I don't see how the team is old. I think I am the oldest guy on the offensive side.
Ben Roethlisberger
is the second oldest guy on the offensive side. Defensively? You got
Aaron Smith
,
James Farrior
and
Brett Keisel
. We just re-signed some of our youngest guys. If you look at our team, we are not as old as people want to portray us. What does that matter anyway?
"I love Warren. He was my 'Dancing with the Stars,' guy before me. It's his opinion. Everyone is entitled to their opinion and it is not going to change. There are guys older than me like
Brian Dawkins
.
Donald Driver
is older than me. Age doesn't matter. Age is something for somebody to put out there just to make an excuse."
Ward also realizes that he's open to criticism, and at this point in his career, he has to be used to it. Even if a former star player is the one making it.
"That's your job," Ward said. "That's what makes news. Your job is to criticize and make stuff. As players we hear it, but it doesn't validate anything. The Steelers are not going to keep me around if they do not think I am productive. We don't just keep guys around to just keep guys around. That's just an excuse when people start looking at the age and that stuff. If you look at our young guys…look at our wide receivers? I'm out there with second and third year guys all the time. Our whole offensive line…we are really not old up front.
Rashard Mendenhall
is still young and in his prime. When people say stuff like that I just laugh because when they were old one day, somebody said that about them. But now they are in a position to say that. I don't get caught up in it."
For more NFL news, rumors and analysis, follow

@EyeOnNFL

on Twitter and subscribe to our
RSS Feed
.