Posted by Andy Benoit

If the NFL were to implement the Thanksgiving game tradition today, no way would the league give the Lions and Cowboys the home game each year. Television has become too significant in today's NFL – nationally-televised games are gold for clubs. But, tradition is tradition, and there's some 40 years of it behind Detroit and Dallas playing on America's favorite Thursday.

The NFL aimed to appease the other 30 teams by implementing a third Thanksgiving game, but unfortunately, it's on NFL Network, which means most fans don't get to see it. Thanksgiving tends to be held at an older relative's house; without any official statistics to cite, we'll assume that the older someone is, the less likely it is they have a satellite dish. Most people, of course, get their NFL Network via satellite dish.

Anyway, this year, we have three excellent teams playing on Thanksgiving (Patriots, Saints, Jets). Unfortunately, none of them play each other. It's possible – maybe even probable – that all three games will be blowouts. This will be especially painful for you the viewer because you'll probably already be watching these games with family members who don't know jack about football. Thus, you'll have boring football buttressed by boring conversation.

So what can you do to ameliorate a potentially-frustrating situation? Try dialing in on a matchup within the matchup and just focusing on the pure art form behind it. Here is a compelling matchup within the matchup for each game:

Patriots @ Lions

Ndamukong Suh against interior Patriots O-line

Pro Bowl guard Logan Mankins has been fantastic since joining the team midseason after a prolonged contract dispute. Mankins is not a pure mauler, but he delivers one of the better hand punches in football. Suh, of course, IS a pure mauler. The No. 2 overall pick is on his way to the Pro Bowl, which is rare for a rookie defensive tackle. Center Dan Koppen is one of the better help-blockers in the NFL. Koppen's double-teaming prowess will be needed against the behemoth rookie. (Worth noting: the Patriots will be without starting RG Stephen Neal in this game.)
Saints @ Cowboys

DeMarcus Ware vs. Jermon Bushrod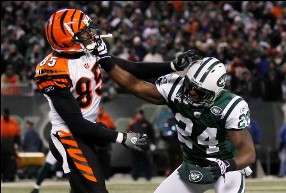 Ware's domination of Bushrod last season is what propelled Dallas to a December upset of the then-undefeated Saints. You might think the Saints will not allow Bushrod to go one-on-one against the superstar pass-rusher. However, Sean Payton could be willing to take that gamble if he decides to go with four wide receivers and spread the Cowboys out (which he likely will).
Bengals @ Jets

Darrelle Revis vs. Who?

Last year, Revis shutdown Chad Ochocinco in back-to-back weeks (Week 17 and the Wild Card round). Ochocinco has been drawing constant double coverage this season, but many believe that Terrell Owens has emerged as Cincy's top wideout. The Jets will tell you which receiver they most fear by how they choose to use Revis. Don't think Ochocinco and Owens won't take note of which guy is paid the ultimate respect. Whoever draws the Revis matchup will almost certainly be held to under four catches (the guess here is it will be Owens, as the Jets could then implement some of the double-team concepts that have hindered Ochocinco this season).

For more NFL news, rumors and analysis, follow @cbssportsnfl on Twitter and subscribe to our RSS Feed.