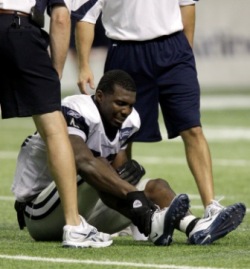 Cowboys
owner Jerry Jones put himself in the unusual position of having to backtrack on some of his comments to the press.
After first-round pick WR
Dez Bryant
suffered a high ankle sprain Friday that will keep him out four to six weeks, Jones told ESPN, "It's really disappointing, and it really causes you to ask what you can do in practices that can mitigate some of the exposure to some of these injuries. It's a real challenge for everybody. The key thing is you ask yourself, 'Are we pushing him too hard; does it happen at the end of practice when the players are tired?' ... You generally are more prone to injury when you're tired. I just spoke with Dez. He's upset, worrying about how many preseason games he'll miss. He's really worked hard for us."
This quote isn't that incendiary, but it smacks of a meddling owner (No! Not Jerry Jones!) who thinks he should be the one running the practices. It's not that big of a deal, except that the words came from the mouth of Jones, and it's the fact that coach Wade Phillips also seems a loss or two away from drawing unemployment.
True, Bryant was working at receiver – he was trying to take away Roy Williams' job, but he also was getting plenty of work as a kick and punt returner. On the other hand, Dez Bryant was suspended for most of his final season at Oklahoma State, and he knows he needs all the work he can get. Which, I thought, was the main reason he was the first first-round pick to sign – so he could practice as much as possible.
Anyway, Jones decided to take another crack at discussing the issue Saturday.
"I'm not being critical," Jones told reporters today. "What I'm being is analytical, or trying to be analytical. This is when you all sit down and look at everything you're doing and see if there's some things you can do to help protect your team better, especially during this time five, six weeks away from opening game."
Phillips later said he wasn't offended by Jones' comments.
--Josh Katzowitz
For more NFL news, rumors and analysis, follow @cbssportsnfl on Twitter and subscribe to our RSS Feed .