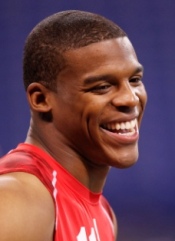 Posted by Mike Freeman
It continues to look increasingly like the Carolina
Panthers
are going to select Cam Newton with the first overall pick in April's draft. But there is a caveat.
Owner Jerry Richardson still isn't completely sold on Newton, a source with knowledge of the Panthers' draft plans told CBSSports.com. Still, Richardson will likely defer to his personnel staff, and many of them have met with Newton, and like him.
The lockout is damaging the entire league but when it comes to rookies it's Newton who could be hurt more than others. Some teams are concerned if the labor impasse continues into the summer or longer, quarterbacks, like Newton, who will need extensive coaching might suffer more than other rookies.
Another player the Panthers continue to be enamored with is former Georgia wide receiver A.J. Green. I find this impossible to believe but people I trust insist the Panthers could trade down and take Green.
This post was cross-posted from Mike Freeman's FreeStyle blog. For more NFL news, rumors and analysis, follow @cbssportsnfl on Twitter and subscribe to our RSS Feed .