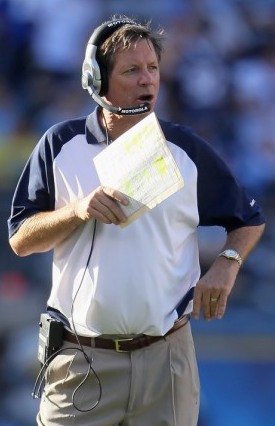 Posted by Josh Katzowitz
When we talk about the coaches who would/should be fired after this season, San Diego's Norv Turner is probably in the top-three. But if anybody deserves credit for the
Chargers
33-25 win against the
Titans
on Sunday, it's Turner.
That's why his team presented him with the game ball after its victory. It's why San Diego is 3-5 and still has hope (no matter how small) in the AFC West for this season instead of 2-6 and looking to next year.
Apparently, Turner's halftime speech, with his team losing 19-14 at the time, was amazing. The
San Diego Union Tribune
has the details:

It was almost all his players could talk about after they held off the Tennessee Titans for a 33-25 victory.

It was how Turner came in after another first-half that left the Chargers trailing and let his players know he believed in them. It was how he told them too that they weren't playing physical. It was how he implored them to go out and leave everything on the field so they didn't have to come back in the locker room after another loss and once again talk about how close they'd come.

"He was telling us to pick our you-know-what up," right tackle Jeromey Clary said.

And so much more.

"What he said was spot on," said quarterback Philip Rivers, who judged it Turner's best halftime speech in his four seasons as head coach. ""It was felt from the first player to the equipment guys. It was dead-on perfect. That's not to say he hasn't been dead-on in the past. But it was the timing and emotion and the way it hit."
The reason why this was so special – or, at the very least, so unexpected – was because Turner isn't known as a real strong motivator.
The Chargers, you'd think, still will have to go far into the playoffs – and possibly make the Super Bowl – in order for the front office to retain him for another season, but hey, Sunday was a nice story nonetheless.
For more NFL news, rumors and analysis, follow @cbssportsnfl on Twitter and subscribe to our RSS Feed .