Posted by Andy Benoit

Yet another story lost in the Favre hoopla Sunday night: the Vikings finished with 196 yards rushing that game.
Randy Moss had just three catches Sunday, which was three more than Donald Driver. Driver's streak of 133-straight games with a reception is over. (For what it's worth, Drive was playing with a bum quad.)
Carson Palmer lost Sunday, but we're guessing that his fantasy owners won. Palmer's final numbers: 36/50 for 412 yards, three touchdowns and no interceptions.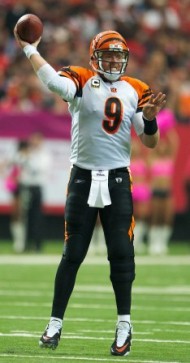 Jordan Shipley, in his first game back since suffering a concussion after T.J. Ward's vicious and dirty hit, caught six passes for 131 yards and a touchdown.
John Abraham caused some problems for the Bengals. It wasn't an utterly dominant performance, but Abraham recorded two sacks Sunday and consistently pushed the pocket.
The Bears were just 2/10 on third down against the Redskins. That means they had three times as many turnovers as third down conversions.
Ryan Torain ripped off 125 yards on 21 carries. The Bears were playing without injured outside linebacker Lance Briggs (ankle).
Bears guard Chris Williams finally got off the snide, catching his first pass of the season for a gain of four yards. (Without seeing the play, the guess here is that the ball was either tipped, or Cutler was remarkably errant on an attempted smoke screen to DeAngelo Hall.)
Albert Haynesworth was a menace for most of the afternoon. He finished with a sack and two tackles for a loss.
The Titans won despite getting just 66 yards out of Chris Johnson's 24 rushing attempts.
Jeremy Maclin was targeted 14 times but finished with just five catches for 42 yards.
The Chiefs gashed the Jaguars for 236 yards on the ground. At one point, Thomas Jones ripped off a 70-yard run and Jamaal Charles came in and punched in the goal-line score.
Dwayne Bowe scored two touchdowns for a second week in a row.
For the Jaguars, some guy named Courtney Greene started at safety and led the team with 12 tackles. (Because Greene started at safety, we'll assume this means he's about to be cut.)
It took Big Ben all of two games to get back into 300-yard passing form. Roethlisberger threw for 302 yards against the Dolphins.
The Steelers held Ronnie Brown to 14 yards on nine carries.
The official box score lists the Steelers have having four fumbles, with two lost and one recovered. That leaves one fumble unaccounted for. Does anyone, by chance, know what happened there?
Colt McCoy won his second start as a pro, but he contributed only 74 yards through the air in doing so.
Peyton Hillis rushed for 69 yards, which was enough by one yards to beat out punter Reggie Hodges to be the Browns' leading rusher Sunday.
Saints safety Darren Sharper had two tackles in his first action of the season.

Scott Fujita returned to New Orleans and posted 11 tackles, a sack, two tackles for a loss, an interception and a pass deflection.
The Rams scored 17 points in the second quarter at Tampa but zero in the other three quarters.
LeGarrette Blount headlined the Bucs backfield with 11 carries for 72 yards. Cadillac Williams, who caught Josh Freeman's winning touchdown pass, had just 12 yards on four carries.
Matt Moore was 28/41 for 308 yards, two touchdowns and an interception (which, granted, was an ugly one returned by Ray McDonald for six points). All in all, that's a mountain-moving quarterbacking performance for the Panthers.
Steve Smith had four catches for 50 yards in his first game back from an ankle injury (which he tweaked in the third quarter, by the way), but it was David Gettis who wore the receiver hat for the Panthers. The sixth-round rookie had eight receptions, 125 yards and two touchdowns.
Joe Flacco was just 16/31 against the Bills, but he did throw three touchdowns and no interceptions. None of those TD's went to T.J. Houshmandzadeh. The former Pro Bowler was targeted just twice and finished with no catches.
Steve Johnson and Lee Evans both went over 100 yards for the Bills.
Ray Lewis: 15 tackles, one sack, one huge fumble force and recovery.
Max Hall and Derek Anderson combined for 12/33 passing
The Cardinals lost four fumbles at Seattle.
The Raiders pretty much embarrassed the Broncos in every statistical way imaginable.
Four the Patriots 15 first downs Sunday were a result of a Chargers penalty.
San Diego rushed for a measly 38 yards on 19 attempts.
Journeyman Antwan Barnes posted two tackles for a loss and two sacks for the Chargers.


For more NFL news, rumors and analysis, follow @cbssportsnfl on Twitter and subscribe to our RSS Feed .