Posted by Andy Benoit

Did you notice the Giants only had 208 yards of total offense against the Eagles Sunday night?
Justin Tuck had three sacks and was phenomenal in containment outside and against the run.
BenJarvus Green-Ellis racked up 96 yards on 21 carries against the Colts.
Donald Brown had 68 yards on 17 carries, but 36 of those yards came on one good run. Brown was his usual ineffective self for most of the night.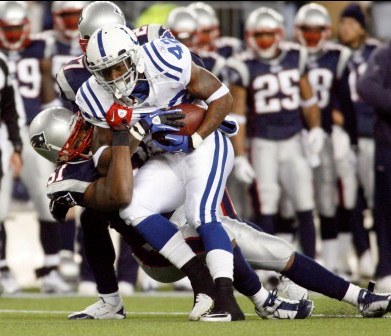 Jerod Mayo led the Patriots with 15 tackles, though fellow inside linebacker Gary Guyton stood out more. Guyton had nine tackles.
Ryan Fitzpatrick: 21/34, 316 yards, four touchdowns and two interceptions.
Fred Jackson and Cedric Benson both rushed for over 115 yards.
For the second week in a row, the Bills won and Lee Evans caught just two passes. (Not trying to suggest there's a correlation between the two.) Steve Johnson has become Buffalo's No. 1 wideout. He had eight catches for 137 yards and three scores against the Bengals.
For the second straight week, Felix Jones gave the Cowboys 51 yards on the ground. That is his second highest rushing output of the season.
Jahvid Best, who is battling a bad foot, had just two yards on three carries. Or maybe it was three yards on two carries. Anyway, he was a non-factor.
Dez Bryant averaged minus-two yards per catch on all of his non-touchdown receptions Sunday.
Very rarely does a DT lead his team in tackles. That's what Ndamukong Suh did for the Lions (eight stops).
Before leaving with a re-aggravated groin injury, Clinton Portis looked fresh on five carries (32 yards).
Pilloried all week for poor route running, Redskins wideout Joey Galloway caught three passes for 32 yards. That was three more than Randy Moss caught, by the way.
Titans rookie Marc Mariani recorded his second touchdown return of the season (87 yards on a punt).
It came predominantly in garbage time, but Derek Anderson was 25/46 for 295 yards and a touchdown. And Matt Cassel, who raised the bar for garbage time excellence last week, was a sturdy 15/24 for 193 yards and two touchdowns.
Dwayne Bowe caught two touchdowns, giving him a Chiefs record six-straight games with a touchdown. Bowe is on pace for 1,100 yards and 18 TD's.
Adrian Wilson led the Cardinals with seven tackles after struggling a week ago.
Thanks to the big deficit, Vikings running back Adrian Peterson got only 14 carries Sunday (72 yards). That was only two more carries than the Packers gave Dimitri Nance (37 yards).
Sidney Rice's debut: three catches, 56 yards.
Clay Matthews added another sack to his records (league-high 11.5 on the season). He also had two tackles for a loss and two hits on the quarterback.
LaDainian Tomlinson still looks fresh. He only managed 36 yards on 12 carries, but he turned in 71 yards on seven receptions.
Joel Dreessen could wind up keeping the starting tight end job even once Owen Daniels is healthy. Dreessen, who is a slightly better blocker than Daniels, caught four passes for 106 yards and a touchdown.
With RT Damien Woody out, the Texans got three sacks (two from Mario Williams) and seven hits on Mark Sanchez.
Pittsburgh held Oakland to 61 yards rushing, which is par for the course for the Steelers this season.
Jason Campbell was 7/19 for 70 yards and a pick before getting benched in the second half. Bruce Gradkowski finished 13/24 for 98 yards and a pick.
Rashard Mendenhall's 59 yards rushing were just four more yards than Ben Roethlisberger had on the ground.
James Harrison had two sacks, two tackles for a loss and two hits on the quarterback (one of which drew a ridiculous roughing the passer flag)…and those numbers still don't describe the depth of his impact Sunday.
Joe Flacco had his first 300-yard passing game of the season against the Panthers.
Ray Lewis got his 30th career interception (and took it to the house).
The Jaguars won despite six turnovers (four from David Garrard).
Peyton Hillis was held to 48 yards on 21 carries, though he produced 95 yards on six receptions.
The Jaguars sacked Colt McCoy six times. Six sacks used to be a half-season for Jacksonville.
Interesting: Michael Turner got 28 carries for Atlanta (131 yards) and Jason Snelling got just one.
Who needs Pierre Thomas? Chris Ivory turned in99 yards on 23 carries for the Saints.
Brandon Stokley, Mike Williams and Ben Obomanu all had at least five catches and 75 yards for the Seahawks.
The 49ers generated only 71 yards on the ground against Tampa Bay's bottom-feeder run defense. Forty five of those yards came from Troy Smith scrambles.
Mike Williams, barely 48 hours removed from a DUI arrest, caught all three passes thrown his way. Williams finished with 54 yards and a touchdown.
Patrick Willis stamped his ticket to Hawaii: two sacks, two tackles for a loss, two QB hits and a team-high 13 tackles.
For more NFL news, rumors and analysis, follow @cbssportsnfl on Twitter and subscribe to our RSS Feed .