Posted by Andy Benoit

Young
49ers
owner Jed York has indicated that he will hire a GM to run the football operations in San Francisco. Included in those operations will be deciding on a new head coach.
York is making it known that he plans on delegating the football decisions to a "footb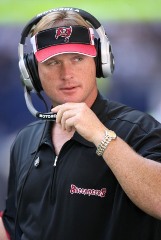 all guy". Still, as the owner of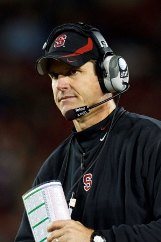 the team, his preferences and wishes will inevitably trickle down to the front office. This is why many, including Tim Kawakami of the
San Jose Mercury News
, believe York will hire a GM who can lure either Jon Gruden or Jim Harbaugh to the Bay Area.
Both of those head coaches are in high demand, and both have working experience in Northern California (Gruden with the
Raiders
, Harbaugh in his current position running the Stanford program). Harbaugh has suggested that he doesn't plan on changing jobs, but with his team playing in the Orange Bowl January 3, what else would you expect him to say at this point? We have great reason to believe Gruden would be interested in the job – his son said a few weeks ago that the plan has been for Dad to go to either
San Fran or Cleveland in 2012
.
As for GM candidates who would work well with either of these two coaches, Kawakami offers a few names:
-George Kokinis (current Baltimore personnel exec, former Cleveland GM, a fit with Harbaugh via Harbaugh's brother, John, the head coach in Baltimore);

-Mike Lombardi (NFL Network analyst, worked with both Gruden and Harbaugh with the Raiders, and with Gruden with the Eagles);

-Bruce Allen (current Washington GM tied to Mike Shanahan, which is swiftly becoming a sour situation; unlikely Redskins will fire both men, but Allen might be looking for an out; he has very close ties with Gruden and could be a perfect do-it-all-exec to work with Harbaugh);

-Trent Baalke and Tommy Gamble (in-house 49ers' potentials who are seen as potential relationship gap-fillers–they already know Jed, understand the roster, and one or both might be able to reach out and "York-ize" Harbaugh or Gruden).
There was an
Associated Press report Tuesday
saying the Niners interviewed former
Panthers
/Rams executive Tony Softli.
The 49er job is one of the most enticing in football. Besides the history of the franchise and committed ownership (we think), there is a talented roster there that is one quarterback away from being a serious contender in the NFC.
UPDATE 8:00 p.m. ET:
According to
Pro Football Talk
, Trent Baalke is "a lock" to get the Niners GM position. Baalke has been handling most of those duties since Scot McCloughan was fired in April. It is believed that the interview with Softli was, to be frank, merely a way to comply with the Rooney Rule.
UPDATE 9:48 p.m. ET: Peter King said on NBC's Tuesday Night Football halftime show that, according to his sources, Gruden is NOT a candidate for the 49ers job. Harbaugh is the hottest name.
For more NFL news, rumors and analysis, follow

@cbssportsnfl

on Twitter and subscribe to our
RSS Feed
.