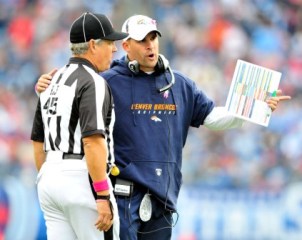 Posted by Josh Katzowitz
Give credit to
Broncos
coach Josh McDaniels for one thing: he doesn't care how the rest of the coaching community feels about him, and I guess, in some ways, that's refreshing.
That must have been his mindset today after ripping Tennessee for what he perceived as dirty play. It's one thing for Denver QB
Kyle Orton
to say that, as he did
in the aftermath of Tennessee's win
Sunday. Said Orton: "You always hear about how tough they are and all that stuff. I don't think they're tough, I think they're cheap. And it was one of the cheapest games I've ever seen out of some of those players."
That's fair enough and actually makes for pretty good copy. But usually – say, 98 percent of the time – coaches stay away from sound bites like that. Not McDaniels, though. Which makes him great for reporters (at least in this isolated case), but I imagine the rest of the league's coaches won't look kindly on those comments.
"I was proud of our team because we knew that was the kind of game it was going to be," McDaniels told the Denver media, as picked up by the
Tennessean.
"You can put any tape you want to of Tennessee and there's going to be 10 penalties. You either coach it or you allow it to happen. That's how I look at that.
"Our guys did a great job of keeping their poise and composure and not getting drawn into a big unsportsmanlike game because I know that's what they were trying to entice us into doing."
"There's a way to play tough and physical without being excessive and playing dirty after the snap. There's a lot of teams in this league that play like that. Tough and physical but also within the rules."
His criticism of Fisher isn't necessarily unfounded, and McDaniels isn't the first person to intimate that the
Titans
aren't very cuddly. But a coach to rip another coach, well that doesn't usually occur.
Here's what Fisher had to say in return: "We play aggressive — we don't play cheap," Fisher said. "If there's things after the whistle or during the play, players are fined for them. But we're not a cheap football team. I don't know what he's referring to.
"We did have six sacks against the quarterback and numerous other times they did have some difficulty with protection and blocking our defensive line. Maybe he's referring to that."
Now that's how you rip another coach in public. You do it in code. Ah, but McDaniels is young. He'll learn.
And speaking of Titans coaches who apparently do bad things, the NFL fined defensive coordinator Chuck "The Bird Flipper" Cecil $40,000. He was fined because he violated the rule that "prohibits use of abusive, threatening or insulting gestures toward officials."
Naturally Cecil issued an apology through the team, saying his middle finger was inappropriate.
For more NFL news, rumors and analysis, follow @cbssportsnfl on Twitter and subscribe to our RSS Feed .