Posted by Andy Benoit

The
Packers
' ground game doesn't have a prayer against a Steeler run defense that ranks third all-time in the modern era. Center
Scott Wells
is a cagey veteran, but he struggled all season to hold ground against vociferous nose tackles. There may not be a more punishing run-stopping nose in the game than
Casey Hampton
. Even if the Packers can somehow neutralize that interior mismatch (and it's doubtful they can), James Stark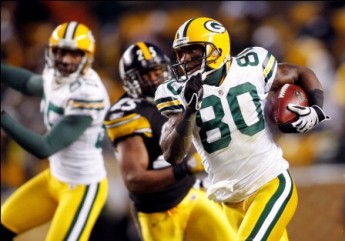 s, decent as he's been this postseason, lacks the speed and agility to elude
Troy Polamalu
,
Ryan Clark
and Pittsburgh's superb linebacking corps.
Green Bay's best chance on Sunday will be to isolate their wideouts against the
Steelers
defensive backs. Don't be surprised if the Packers spend most of the game in four wide receiver sets. That would force Dick LeBeau to play nickel or dime and keep either his leader (
James Farrior
) or most athletic player (
Lawrence Timmons
) off the field. It would also isolate at least one of Green Bay's wideouts on one of Pittsburgh's cornerbacks.
For Green Bay, the most attractive mismatch in the passing game will be inside. Steelers nickelback
William Gay
, who occasionally struggles in man coverage, will have his hands full against either
James Jones
or
Jordy Nelson
.
Also, expect the Packers to keep
Greg Jennings
on the right side of the formation, where he's more likely to face
Bryant McFadden
. McFadden, like his counterpart
Ike Taylor
, is stout enough as a tackler to keep the catch-and-run happy Packer receivers from breaking a big one. But unlike Taylor, McFadden does not have great length or catch-up speed over the top. Jennings, one the crispest and most befuddling downfield route runners in the game, can exploit this.
Most importantly, spreading the field will create natural throwing alleys for Rodgers. This is critical because, with
Chad Clifton
going against
James Harrison
and
Bryan Bulaga
going against
LaMarr Woodley
, shaky pass protection will limit Rodgers to mostly three-step drops.
It will be fascinating to see whether LeBeau allows Rodgers to complete passes off three-step drops or whether he tries to counter the quick pass. Countering it likely means taking a reactionary defensive approach – something that is generally unfamiliar for LeBeau's unit. Normally the Steelers love to blitz their inside linebackers (often this is what creates one-on-one scenarios for their potent outside linebackers). But to counter Rodgers' quick strikes, the Steelers may drop eight into coverage and rush only three. Harrison and Woodley are both adept in space. If the linebackers are dropping back, Pittsburgh's corners get to play zone instead of man. That helps appease the mismatch against Green Bay's wideouts.
The X-factor, as usual, is Troy Polamalu. How LeBeau decides to utilize his most dynamic playmaker will determine whether the Steelers blitz or drop back. If Polamalu roves around the box, expect blitz. If he roves around centerfield, expect drop back.
Speaking of Polamalu, here's what LeBeau had to say about the legendary safety.

For more NFL news, rumors and analysis, follow and subscribe to our
RSS Feed
.
@cbssportsnfl
on Twitter