On Wednesday, we told you about the
offseason itinerary
of
Bengals
coach Marvin Lewis,
Eagles
coach Andy Reid, Viki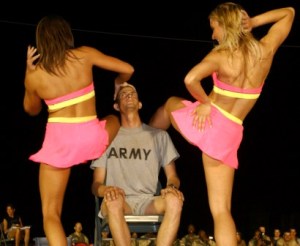 ngs coach Brad Childress and
Panthers
coach John Fox.
They're traveling to Afghanistan on a USO tour, and on their first day, they flew to Germany, met American soldiers at a hospital, took off for their flight to Afghanistan, hit a bird and returned to Germany for the night.
David Krichavsky, the NFL's Director of Community Affairs, is trailing the four coaches and writing about what they see and what they do. The latest installment appeared on the
Cincinnati Enquirer's
site today.
A funny story from the dispatch:

No recounting of Day 2 of our USO tour would be complete without revisiting Day 1, when our attempted flight to Afghanistan was aborted due to a bird flying into our plane's engine during takeoff. As noted in the Day 1 blog, Eagles coach Andy Reid quickly became the scapegoat for this quirky accident, largely because he was in the cockpit during takeoff and because of his team's nickname, "The Birds."

Coach Reid continued to take significant abuse from the other coaches on Day 2 of the tour, such that anything that went wrong was immediately ascribed to Andy. The story about the bird got even funnier though on Day 2 when a couple of additional details about the incident emerged: 1) Where was the pilot flying our plane from? Philadelphia, of course. 2) What did the co-pilot yell over his headset to the pilot and crew just after we took off and the danger became evident? "Bird Alert! Bird Alert!" Maybe Coach Reid and the Eagles did bring some bad karma to that flight after all.
Somehow, though, the coaches ended the day in Germany once again. At some point, I assume, they'll head into more hostile territory. Here's hoping the coaches - when they finally reach Afghanistan - don't perform the same routine as the
Ravens
cheerleaders when they entertained troops in 2002 (pictured above).
--Josh Katzowitz
For more NFL news, rumors and analysis, follow @cbssportsnfl on Twitter.