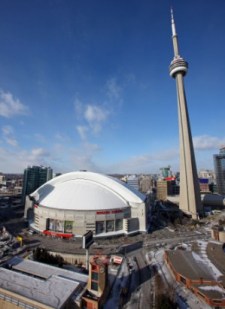 Posted by Josh Katzowitz
Apparently, Toronto feels like it has a pretty good shot of landing an NFL team at some point in the future.* But I'm thinking the city will have to wait just a little while longer.
*Personally, I think that'd be great if the NFL came to Toronto full-time. Toronto is a great city with fantastic restaurants, friendly people with awesome accents, and a strong public transportation system.
"They have to take care of the problem in Los Angeles first," Toronto councillor Doug Ford told
The Score.
"Two teams are kind of in play here: Jacksonville's number one; New Orleans is the other. So there's two teams. Once they take care of Los Angeles, we're going to fly over to New York, set up a meeting with [NFL commissioner Roger] Goodell and give him our pitch."
One problem with Ford's theory is that there's little chance the NFL would present a franchise to Toronto if the city doesn't improve its current facilities (or just build a new one). Rogers Centre – where the
Bills
play once a season – is not exactly a state-of-the-art, gleaming-new stadium.
But Ford has talked about the possibility of building a new waterfront stadium or providing more seats for the current facility (to do that, apparently the hotel inside could be yanked out or the stadium floor could actually be dropped deeper into the earth in order to create more seats, the latter of which would make Jules Verne a proud man).
But to compare this potential new franchise with playing host to Buffalo's franchise once a year is not the right association to make, Ford said.
"If we had our own team, we'd treat it like it's our own and build up a fan base," he said. "They want to expand internationally. But what better expansion than down the street to Toronto? They can't keep ignoring a market this size."
Funny, the NFL has basically ignored Los Angeles the past 16 years. And if Ford believes the NFL will "take care of the problem" in L.A. first, he might have a long wait in front of him.
Still, he gets to live in Toronto, which is pretty cool, eh?
For more NFL news, rumors and analysis, follow @cbssportsnfl on Twitter and subscribe to our RSS Feed .