Posted by Andy Benoit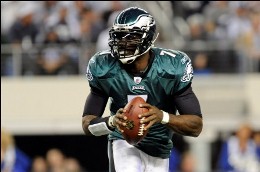 We all know
Michael Vick
's popularity has surged in recent weeks – the Pro Bowl fan vote tallies tell us that. It's one thing to vote for a player; it's another to spend money on him. Below is perhaps the greatest piece of evidence that football fans (and perhaps only football fans) have not just forgiven Vick but have embraced him. Via Philly.com is a list of the 10 highest selling jerseys in the NFL during the holiday shopping season (i.e. the past four weeks). Three of those ten jerseys belong to Vick. Here's the list (courtesy of
Philly.com
):
1. Michael Vick replica (jade)
2.
Mark Sanchez
replica team (green)
3. Michael Vick youth replica (white)
4.
Hakeem Nicks
replica team (blue)
5.
Peyton Manning
toddler/child (royal)
6.
Eli Manning
(blue)
7.
Troy Polamalu
(black)
8.
LaDainian Tomlinson
(green)
9. Michael Vick (black)
10. Troy Polamalu replica (black)
Jersey sales offer a different perspective on a player's popularity than Q ratings and opinion polls. Generally, a person only shells out $100 for a jersey if they're a hardcore fan of a particular team. That's why four players from the big-market New York teams made the list. And it's no surprise that Troy Polamalu, the star of football's most popular team (aside from the
Cowboys
), is on there twice. Philadelphia is a big market, but it's behind New York, Chicago and Dallas/Fort Worth.
For more NFL news, rumors and analysis, follow

@cbssportsnfl

on Twitter and subscribe to our
RSS Feed
.