Josh Katzowitz and Andy Benoit saved everyone's favorite position ranking debate for last.

Josh Katzowitz's top five

5. Aaron Rodgers, Packers

4. Brett Favre, Vikings

3. Philip Rivers, Chargers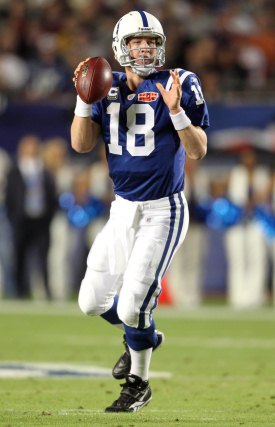 2. Drew Brees, Saints

1. Peyton Manning, Colts

This top five quarterbacking exercise is interesting. You basically can put the league's starting quarterbacks into three categories. The top guys (about seven players), who you'd pick if (for some reason) you needed somebody to go 80 yards in 2 minutes in order to save your mortgage. The middle guys (maybe nine players) who used to be really good but now aren't or who are young but could turn out to be really good. Then, the lower-end guys (the rest) who are interchangeable and probably wouldn't lead your team to the top of the division. In that end, this exercise isn't that difficult, because, basically, we're picking from about seven quarterbacks.

That said, I'd be surprise if anyone argued against Peyton Manning as the top quarterbacks in the league – and maybe one of the best-five of all time. I could run through the stats, but you know they're awesome. Perhaps most impressive about Manning, like Favre, is that he's so durable. Part of that has to do with the performance of his offensive line – Manning was sacked 10 times last year – but he's also tough, never missing a start in his career (that's 192 straight games).

Brees had an incredible year last season, recording a QB rating of 109.6 and completing an NFL-record-tying 70.6 percent of his passes. I'd feel safer with Manning with the game on the line, but not much. Rivers and Rodgers passed for at least 4,200 yards, 28 touchdowns and less than 10 interceptions last season. And it's tough to discount Favre, especially after how he performed last year in his 19th season. Yeah, he plays cowboy too often and throws atrocious interceptions in clutch moments, but for consistent greatness, he's tough to beat.

Andy Benoit's top five

5. Brett Favre, Vikings

4. Ben Roethlisberger, Steelers

3. Drew Brees, Saints

2. Tom Brady, Patriots

1. Peyton Manning, Colts

Josh, seven of the last nine Super Bowls have been won by quarterbacks who are NOT on your list. I can understand omitting Eli Manning – he ranks in the 10-12 range, not the 1-5 range. But I can't, for the life of me, figure out how Tom Brady and Ben Roethlisberger don't show up.

The only explanation for a "healthy-minded" individual omitting Brady is that said "healthy-minded" individual thinks Brady isn't the same after his '08 knee injury. True, Brady had some trouble getting comfortable in the pocket during the first half of last year, but he still finished the season with nearly 4,400 yards and 28 touchdowns. The knee can't be THAT grave a concern.

The argument against Big Ben, I'm assuming, is that he's suspended for character issues, which calls his leadership into question. Whatever. The man is 28 and already owns two rings. Physically-speaking, Roethlisberger is the most gifted quarterback in the NFL.

Go ahead and retort these Brady-Roethlisberger arguments – I'm prepared to argue all day. (And if you're prepared to say that Brady has weapons around him, I'm prepared to say that he won his three titles with Troy Brown and David Patten; if you're ready to mention Roethlisberger's sack numbers, I'm ready to remind you that his improvised plays have been a more than adequate tradeoff, and I'll also ask, "If sacks are so bad, then what is Rodgers doing on your list?")

A few other notes from your list…

**I agree with your analysis on Manning and Favre. Something I'd add is that no two quarterbacks transform average receivers into stars like these two. Favre made the careers of Robert Brooks and Antonio Freeman. He built fantastic chemistry with Donald Driver. Most recently, he's helped Sidney Rice recognize his full potential. Manning did the same with youngsters Pierre Garcon and Austin Collie last year. Think either of those guys could register 100 yards in a playoff game if they had a typical quarterback throwing them the ball?

**You give credit to Manning's offensive line. Don't. All the credit goes to Manning. The Colts offensive line is, at best, average. Left tackle Charlie Johnson is a plodder and both guards are undersized. Manning's awareness and pocket presence explain the low sack totals. It's the same case with Brees and the Saints' line, by the way. Left tackle Jermon Bushrod is awful, and you know how I feel about Jon Stinchcomb. But even with iffy tackles, Brees almost never takes sacks.

**Like you, I put Manning ahead of Brees. My reasoning is that Manning has been playing at the highest of levels for about eight years. Brees, only three or four. That said, I have trouble following your logic when you write, "I'd feel safer with Manning with the game on the line, but not much." Wasn't Brees's Super Bowl title clinched by Manning's late fourth quarter pick-six?
Josh's rebuttal

So, you're going to choose one play to illustrate that Manning isn't clutch at the end of games? Well, what about the 2006 season AFC Championship game when he led the Colts back from an 18-point deficit, including that game-winning 80-yard TD drive, to beat Brady and the Patriots? Can we count that? Manning's been clutch for longer than Brees in this league. That's why I went with Manning as No. 1. Which you agree with, anyway.

When I mentioned there were seven quarterbacks who could have made the top seven, I obviously was also talking about Brady and Roethlisberger. I've seen Roethlisberger play numerous times live, and, to me, he's simply a notch below the guys I've listed. I didn't factor the recent legal issues or the suspension into my equation, but the leadership issues I did. It's just the way he's perceived by his teammates and the fact that they've questioned his character on a number of occasions. It's not a good thing. I don't mind him taking sacks because, I agree, he makes so many plays off his freelancing that it tends to balance out. But I point you to his 2008 stats: 59.9 percent completions; 3,301 yards, 17 touchdowns, 15 interceptions. Those are not elite numbers. Hell, Chad Pennington had better numbers than that in 2008.

And you know what? I don't have a great argument for excluding Brady, other than he didn't seem like the same player last year after the knee injury. Plus, Matt Cassel had a pretty good year in Brady's place, so in my mind, that diminishes Brady just a tad.

But if I had a mulligan, I think I'd replace Rodgers with Brady at No. 5.

Andy's final word

Can't let you off that easy, Josh – especially since this is our last position rankings debate. Putting Brady at No. 5 is inadequate. He's at least 2 or 3. I will say, though, your point about Cassel is not a bad one. The Patriots went 11-5 under him and were hot down the stretch (they got screwed out of a postseason berth by the NFL's flawed playoffs rules that put the 8-8 Chargers in the tournament that year). During that '08 season, an immensely respected NFL analyst privately told me that you could argue Brady is simply the greatest system quarterback of all time. This analyst wasn't saying he believed this, he was merely explaining that the discussion was worth having. We'll save that discussion for another time. For now, I'll keep it simple by honoring a Three-Time Champ.

Roethlisberger's '08 numbers are poor. And, from afar, he doesn't appear to be highly respected by teammates. I get that. But again, this is a multi-time World Champion we're talking about. If we had more Super Bowl winners in the league, you could leave the guy off. But it's hard to go with Rodgers or Rivers when those guys have yet to build rich playoff résumés.

Final follow up on Manning: I'm not saying he isn't clutch. He is. I'm just anticipating all the comments we'll get from people griping that Brees should be No. 1 based on recent history.


Other positions: Safety | Cornerback | 3-4 Scheme Outside Linebacker | Punter | Kicker | 4-3 Scheme Outside Linebacker | Inside Linebacker | Defensive Tackle | Defensive End | Offensive Tackle | Center | Offensive Guard | Tight End | Wide Receiver | Running Back)

--Josh Katzowitz and Andy Benoit

For more NFL news, rumors and analysis, follow @cbssportsnfl on Twitter.