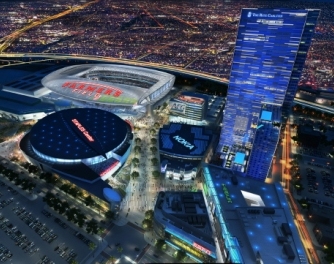 Posted by Josh Katzowitz
It seems relatively clear that if a new team winds up in Los Angeles to play at the
new downtown complex
that will include Farmers Field, it very well could be the San Diego
Chargers
.
When I talked to legendary
San Diego Union-Tribune
scribe Jerry Magee recently, he said the city was worried, and aside from perhaps the
Vikings
, the Chargers returning home to their original city (the Chargers were established in L.A. in 1960) seemed like a pretty good bet.
But according to
ESPN.com
, the move not be that easy -- or that close to actually happening. Chargers special council Mark Fabiani said the team would not consider a move to a temporary spot in a new city if that city also wasn't in the process of building a permanent new stadium. He's not sure Farmers Field qualifies.
"I think the downtown L.A. project is years away," Fabiani told ESPN.com. "I think it would be a miracle like the loaves and the fishes if they could [break ground next year]."
AEG president Tim Leiweke has previously said he would like to break ground on the new stadium by next June and open it by September 2016. Meanwhile the city of San Diego is trying to build a new Chargers home of its own, a retractable stadium downtown.
The problem(s) with that scenario: how to finance the project in San Diego, and could the city's voters get behind a new project that likely would keep the Chargers in town? That obviously is not an issue with AEG and L.A., which has plenty of money and support (if not from football fans in L.A., it's got tons of it from the league office). And Fabiani is not clueless about the potential fallout of that equation. If a new stadium isn't built, Fabiani knows there might not be much hope of keeping the Chargers in San Diego.
"I think if we didn't make the ballot in 2012 we would have to seriously look at our other options," he said. "I don't think there's any way to avoid saying that to people."
Which ultimately shouldn't make the people of San Diego feel any better. Because even if the Chargers aren't in danger of leaving San Diego within the next year, that doesn't mean it's not going to happen eventually.
For more NFL news, rumors and analysis, follow

@EyeOnNFL

on Twitter and subscribe to our
RSS Feed
.