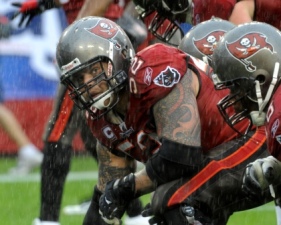 Posted by Josh Katzowitz
One aspect of the lockout that has not really been discussed (at least in these parts) is the fact that friends that are used to hanging out this time of year have been kept apart by forces beyond their control.
Which, on the surface, sounds a bit silly, I guess.
But think about it: what if the dude who you hang out with seven days a week for a six-month span and consider a teammate and (possibly) a brother didn't come around any more? Or worse, what if your employer made sure you guys didn't come into contact because he locked the doors to your place of employment?
You probably wouldn't cry in your beer or anything, but you'd probably be bummed out a little bit. Hell, you might even miss your boss (somewhat).
That's the situation in which
Buccaneers
C
Jeff Faine
has lived lately, and the
Tampa Tribune
shares a quick anecdote about what happened when Faine found himself within spitting distance of Tampa Bay GM Mark Dominik.
Basically, the two were attending a local soiree in which the local sports heroes were being honored, and Faine and Dominik accidently conducted interviews within a few feet of each other.
"It's good to see Mark's face," Faine told the paper. "I miss (offseason workouts) because I miss being around the guys. I had dinner with (left tackle)
Donald Penn
the other night and it was fantastic just to see his face. These are the guys you go to work with every single day. You have a relationship with them that goes beyond football.
"You're friends and this situation we're in right now is taking us away from our closest friends. I am an optimist at heart and the next couple of days will tell us a lot about what direction we're heading.''
When a big, tough offensive lineman is telling a newspaper reporter that it was just good to see his boss' face for a few seconds, well, that tells you all you need to know about how badly some of these guys want to get back on the football field.
For more NFL news, rumors and analysis, follow @cbssportsnfl on Twitter and subscribe to our RSS Feed.