Posted by Andy Benoit

Ravens @ Panthers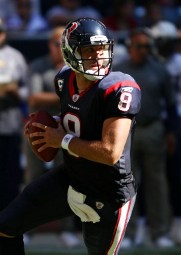 Ravens guard Chris Chester is questionable with a skin infection. If he's unable to go, utility backup Tony Moll would fill-in. That would be a downgrade in terms of run-blocking mobility, though Baltimore would survive.

The Panthers are without pretty much any offensive player worth watching. QB Jimmy Clausen is out (concussion). RB Jonathan Stewart is also concussed and won't play. Same goes for rookie WR Brandon LaFell. RB DeAngelo Williams is done for the season with a foot injury. With backup RB Tyrell Sutton also out (ankle), the run game will fall on the shoulders of Mike Goodson. Against this Ravens defense it will be tough for the second-year pro to match his 100-yard output of a week ago.
Texans @ Jets

Matt Schaub is expected to play after being hospitalized midweek with a bursa sac problem. Schaub won't have Owen Daniels (hamstring) to throw to, though.

The Jets are in a similar situation. QB Mark Sanchez (calf) was less than 100 percent all week but will play. But he won't have arguably his favorite inside target, WR Jerricho Cotchery (groin). Expect TE Dustin Keller to play a more prominent role, especially given that Houston has no safeties who are adept in coverage and two linebackers who are questionable (Zach Diles, illness; Xavier Adibi, hamstring).

The only other injury of note here is Jets cornerback Dwight Lowery, who is out with a head injury.
Bills @ Bengals

No C.J. Spiller (hamstring) for the Bills, which means they'll have to find someone else to dance along the outside running lanes and distrust the run-blocking. Hamstring injuries struck Buffalo's defensive line, with Spencer Johnson out and Kyle Williams having been limited in practice this week.

The Bengals could list half their team as questionable with a bad attitude, but that would only be an admission of their failed personnel moves. Thus, they'll stick to listing traditional injuries. Included in those injuries are both starting defensive ends being on the shelf (Antwan Odom, wrist; Jonathan Fanene, hamstring), backup DE Frostee Rucker likely joining them (knee, no practice all week) and DT Tank Johnson very doubtful with a bum knee. Slot CB Morgan Trent also has a bum knee and won't play. If that's not enough, LB Rey Maualuga (thigh) and S Chris Crocker (calf) were limited in practice and are both questionable.

Of course, we're talking about two teams with a combined three wins, so really, besides Bills' and Bengals' friends and family, is anyone really that concerned about who takes the field Sunday?

For more NFL news, rumors and analysis, follow @cbssportsnfl on Twitter and subscribe to our RSS Feed .