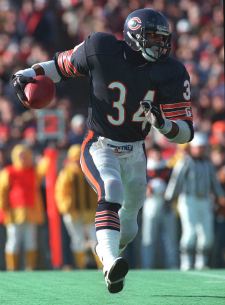 Posted by Josh Katzowitz
It's one of the most-anticipated sports books to hit the shelves in time for the holidays, but on Wednesday, Jeff Pearlman's biography about Walter Payton -- titled
Sweetness: The Enigmatic Life of Walter Payton
-- got much bigger publicity. It's to be excerpted in this week's
Sports Illustrated
, and to help hype the book, which drops Oct. 4, some of
the scandalous news
that emerges from it was released.
Like, for example, Payton abused pain-killing drugs during and after his career, contemplated suicide at some points of his life and maintained mistresses on the side of his marriage.
That last point created a potentially big problem at Payton's Hall of Fame induction ceremony when his girlfriend insisted on attending despite the fact his wife was going to be there as well.
"The introduction into the Pro Football Hall of Fame is supposed to be the greatest moment in his life," Ginny Quirk, Payton's executive assistant, told Pearlman. "And in truth, it was probably the worst. Four full days, and Lita and Connie were like two ships passing in the night. If Connie was scheduled to come late, I'd make sure Lita was there early. If Connie was there early, Lita would be there late. I can't describe the horror of that trip."
In response to the excerpts of the book, the
Bears
released the following statement: "When we take the field each Sunday, we represent the great players like Walter who helped build the rich tradition of our organization. Nothing will change our feelings for a man we have the deepest respect for and miss having around Halas Hall to this day."
For Pearlman's part, he says he set out to write about Walter Payton in full. Not just about the positives that you might know, but about the secrets you probably don't.
"It hurts me that this will hurt his kids," Pearlman told
SI.com
. "It really does because Jarrett and Brittney are wonderful, engaging, fun, caring people and they're really uplifting figures in the Chicago landscape ... That said, I set out to write a definitive biography -- period. When people would ask, 'Well, is this going to be positive?' I'd say, 'Not positive, not negative -- definitive.'"
The Payton family, via the
Chicago Tribune
, also released a statement: "Walter, like all of us, wasn't perfect. The challenges he faced were well known to those of us who loved and lived with him. He was a great father to Jarrett and Brittney and held a special place in the football world and the Chicago community. Recent disclosures -- some true, some untrue -- do not change this. I'm saddened that anyone would attempt to profit from these stories, many told by people with little credibility."
For more NFL news, rumors and analysis, follow

@EyeOnNFL

on Twitter and subscribe to our
RSS Feed