Sports Illustrated has published its list of the highest paid athletes in sports.
Peyton Manning
leads all NFL players with a salary of 15.8 million and endorsements of $15 million, totaling – can you guess? -- $30.8 million. Manning ranks ninth amongst all athletes.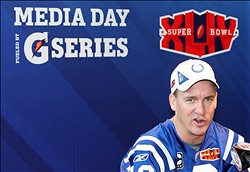 In a sign that the NFL rookie salary system has truly spiraled out of control,
Lions
quarterback
Matthew Stafford
ranks second in the NFL in total earnings. Stafford is hauling in just $750,000 in endorsements, but his rookie contract is paying him $26.9 million.
Third is
Eli Manning
, with $19.5 million salary (part of the contract extension he signed last August) and $7 million endorsements. Manning ranks 13th amongst all athletes, which is 30 spots higher than he ranked a year ago.
SI
writes
:
Our findings consisted solely of salary, winnings, bonuses, endorsements and appearance fees. We consulted players' associations, tour records, agents and news reports. Our endorsement estimates for 2010 came from Burns Entertainment & Sports Marketing, other sports-marketing executives and analysts, and agents. Salary figures were based on current or most recently completed seasons (the upcoming 2010 season for the NFL).
Here's the rest of the NFL's top 10 (most of these players recently signed long-term contracts with rich bonuses).
4.
Philip Rivers
, $25.6 million salary, $250,000 endorsements, $25.85 million total
5.
Terrell Suggs
, $24.9 million, $75,000, $24.975 million total
6.
Albert Haynesworth
, $24.6 million salary, $150,000, $24.75 million total
7.
Brett Favre
, $17 million, $7 million, $24 million total
8.
Darrius Heyward-Bey
(yeah, seriously), $21.43 million, $150,000 endorsement, $21.505 million total
9.
Jason Smith
, $20.57 million, $75,000,$20.645 million total
10.
Julius Peppers
, $20 million, $75,000, $20.75 million total
-- Andy Benoit
For more NFL news, rumors and analysis, follow
@cbssportsnfl
on Twitter and
subscribe to our RSS Feed
.