Posted by Andy Benoit

If we're to read between the lines of Peter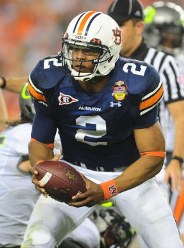 King's most recent Monday Morning Quarterback column, we can surmise that the Panthers are leaning towards drafting Cam Newton. King reports that the team has ordered four game tapes from Newton's 2009 season at Blinn (Texas) College, the school Newton led to a NJCAA National Championship after leaving Florida.

"They wanted to see a little more tape,'' said Ronny Feldman, the offensive coordinator and quarterback coach of that junior college team. "Of all the teams looking at him here, Carolina's been the big one. They called me twice this week.''

That's due diligence. Considering Newton was primarily facing 18 and 19 year olds in those games, the Panthers are likely viewing the tapes to track the evolution of his mechanics. Then again, Newton ran the pistol at Blinn, so most of those mechanics may be irrelevant at this point.

King says that most NFL teams discount a player's junior college experience entirely. But, he adds, "The Blinn year's a mystery, the missing year in Newton's life to a lot of people, including some in the NFL. Feldman said about 10 teams 'have been through here' looking for information on Newton, as NFL teams should seek given the quarterback's questionable background (possession of a stolen laptop, accusations of cheating in class) at Florida."

For what it's worth, Feldman also raved about Newton's character and leadership.

For more NFL news, rumors and analysis, follow @cbssportsnfl on Twitter and subscribe to our RSS Feed .