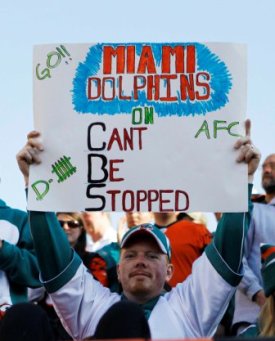 Posted by Josh Katzowitz
We're halfway through the season, which means we get plenty of first-half best-of lists from every corner of the Internet. Which, don't get me wrong, is totally cool. In fact, here are two well-done lists – one from our own
Pete Prisco
and one from our own
Clark Judge
.
Or you can go snarky and talk about the worst of the worst through the first nine weeks of the season (
Cowboys
,
Bills
,
Panthers
, etc.) That's fine too. I certainly don't mind a worst-of list every now and again. As long as I'm not on it.
But I've decided to play to the middle: how about an award for the Most Delightfully Average (fill-in-the-blank)? I think this needs to happen, because, really, most of us in life are pretty average (present company excluded, of course. I'm talking about those other people that aren't reading this article – which, by the way, is far above delightfully average).
There are a handful of us that are really, really good at what we do, and there are some of them who are absolutely terrible at their jobs. Yet, most of us fit somewhere in the middle. That said, here are the most delightfully average awards from the first half of the season.
10. Average offense –
Bengals
: They rank 15th in yards per game (345.0) and 17th in points per game (20.9), and despite the terrific addition of WR
Terrell Owens
(who would have guessed we'd be saying that a few months back?), the offense seems stuck in mud. Much of it rests on QB
Carson Palmer
's arm, because he has plenty of weapons around him. He just hasn't been very good.
9. Average defense –
Colts
: For a potential Super Bowl contender, this defense sure is mediocre. In order to go far in the playoffs, the Colts will have to improve on their 344.6 yards allowed average (20th in the NFL), their 21 points allowed (tied for 14th), and, in particular, the 140.9 rushing yards allowed (29th). Not having S
Bob Sanders
or his replacement,
Melvin Bullitt
, because of injury hurts the secondary, but the defensive line, even with
Robert Mathis
and
Dwight Freeney
, has just 17 sacks. Which ranks, you guessed it, 16th in the 32-team league.
8. Average quarterback –
Jay Cutler
,
Bears
: When you think of Cutler, you might rank him somewhere near the bottom of the quarterbacks list. Perhaps that's because, whenever the Bears are playing on national TV, he always seems to be throwing four interceptions per game or taking a big-time pounding from the opposing linebackers. Plus, he has that sour look on his face that probably just makes you sad. But no, Cutler ranks 16th in passer rating, 18th in passing yards, 19th in touchdown passes, 12th in interceptions and 19th in completion percentage. So, he's simply stuck in the middle.
7. Average running back –
Brandon Jackson
,
Packers
: After
Ryan Grant
was placed on the IR list following an ankle injury, it was left to Jackson and
John Kuhn
, the only two running backs remaining on the roster, to try to replace his production. Jackson has been fine, though unspectacular. He rushed for 115 yards in Week 5, but he averages 4.3 yards per carry for a Green Bay rushing game that ranks 20th in the league. QB
Aaron Rodgers
probably wouldn't mind a little more assistance.
6. Average wide receiver –
Michael Crabtree
,
49ers
: I'm sure this is what San Francisco expected when it took him with the 10th overall pick in 2009 and then waited as he embarked upon an extended hold-out. On the season, he ranks 32nd in the NFL with 31 catches, and he averages 12.4 yards per reception (just kind of meh). One silver lining to Crabtree's game, though: 80 percent of his catches go for first downs.
5. Average fans – Bengals: There wasn't much analysis with this one. I just went down the list of total attendance by percentage of seats sold, and at 98.0 percent, Cincinnati was No. 16 (No. 1 is Dallas at 108 percent?!? (Wade Phillips must have been REALLY popular in the Big D); No. 32 is Oakland at 71.6 percent).
4. Average saliva-tosser – Le'Ron McClain,
Ravens
: If you're going to spit into somebody's face, you either have to be discreet or you have to go all-out (think Roberto Alomar spitting into John Hirschbeck's face (I can't believe that I didn't have to look up the umpire's name to make that analogy)). McClain did neither. He wasn't discreet, you see his face move forward forcefully toward Miami's
Channing Crowder
in the video, and he didn't just hawk the loogie like Alomar did. Really, just an average performance.
3. Average division – AFC South: If the NFC South (with three teams at 5-3 or better) is the best division in the NFL and if the NFC West (nobody better than .500) is the worst, the AFC South has to be the most average. The Colts and
Texans
are tied for first place at 5-3, while the
Jaguars
and Texans are tied for last with 4-4 records. All of these teams have shown major flaws during their quest to compete for a division crown. I don't think the Jaguars have much of a chance, but of the other three, I really don't have any idea who will make the postseason.
2. Average coach – Gary Kubiak, Texans: Three weeks ago, there's no way Kubiak would have "won" this award. Behind Kubiak, the Texans surprised the Colts in the opener with a big victory, and despite losing to Dallas (who in the hell loses to the Cowboys, anyway?), Houston was 4-2. But the Texans have lost their last two, and for some reason, Kubiak forgets about RB
Arian Foster
at times while his defense plays horribly. Once again, the Texans might not make the playoffs, meaning Kubiak might be gone at the end of this season.
1. Average team –
Dolphins
: Miami has been a rather tough team to pin down this season. Sometimes, the Dolphins look very good, using a tough defense to beat the
Vikings
and Bengals, or being resilient enough to upend the Packers. Other teams, they look absolutely horrid (last week's 26-10 loss to the Ravens, and the 41-14 debacle to the
Patriots
). It feels like Miami should be better, but in the end, the Dolphins are humbly – and delightfully – average.
For more NFL news, rumors and analysis, follow @cbssportsnfl on Twitter and subscribe to our RSS Feed .