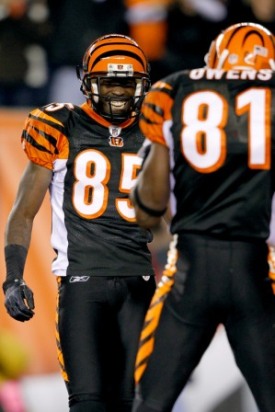 Posted by Josh Katzowitz
It's funny:
Terrell Owens
really is playing like Batman and
Chad Ochocinco
truly is responding like his sidekick.
You'll remember that when Owens signed with the
Bengals
before the season, Ochocinco made the point that he was excited to play Robin to Owens' Batman. It was a somewhat humbling statement from Ochocinco, who enjoys being the center of attention of his fan base and of Bengals QB
Carson Palmer
.
When those comments were made, I assumed Ochocinco was being half tongue in cheek, because he was still Cincinnati's No. 1 receiver and Owens was still in the process of being rescued from the scrapheap.
But maybe Ochocinco is unintentionally clairvoyant.
As the
Cincinnati Enquirer's
Joe Reedy points out this morning, the two receivers are on two completely different train tracks. In this blog post, Reedy reports Owens is
on pace to reach all the incentives of his contract,
which would bring him $4 million.
Coming off an evening in which he recorded 10 catches for 141 yards and two touchdowns in the Bengals loss to the
Steelers
, Owens said afterward: "In those situations, you just have to take what the defense gives you. Obviously, we were trying to get an idea of what they were doing out there and, when those matchups come about, you try to exploit them. I'm no stranger to bump-and-run (coverage). I've been watching film of those guys all week, and I've played against them before on other teams. They're an aggressive defense, and I think we got them when we had the opportunities to."
With Owens on pace for 110 catches, 1,540 yards and 14 touchdowns, he would easily pass the "Tier I" incentives in his contract (60 catches, 900 yards, 10 TDs). The "Tier II" incentives mean he would have to record 100, 1,300 and 14, respectively.
In another blog post, Reedy writes about
Ochocinco's frustration.
On the night, Ochocinco had one catch for 15 yards, and he's disappeared for long stretches during the season.
"They double me every week. Allow me to be available," Ochocinco said. "It's not flattering because they do the same thing every week. It doesn't become flattering, it becomes frustrating.
"You have to put yourself in my shoes. To go week in and week out, to take 85 away and not do anything. It's not a compliment not after Week 9."
For more NFL news, rumors and analysis, follow @cbssportsnfl on Twitter and subscribe to our RSS Feed .