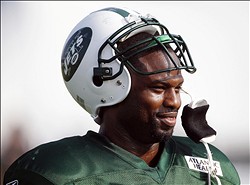 Posted by Will Brinson
Every year since Rex Ryan has been with the
Jets
, there's been some sort of Super Bowl-winning guarantee.
His first year, it was "bold," the second year it was "brash," and now, it's edging towards "tired."
Bart Scott
, the raucous Jets' linebacker, understands that Ryan's team needs to go ahead and deliver.
"I think it's about time we get it done and see this thing through because, after a while, people are going to start looking at it as a joke,"
Scott said in an interview with ESPN's Sal Paolantonio
(which somehow resulted in a miserably overextended
SportsCenter
"Can't Wait" segment).
Scott's right, too -- at some point Ryan and the Jets' guarantees are just going to become blasé, if they haven't already.
The thing going for Ryan is that for two years in a row, his team has made the AFC Championship Game.
So he's actually quite close to pulling off the Super Bowl victory (though I'm not sure his Jets beat either the
Saints
or the
Packers
, but that's just me), or at least having a one-game shot at pulling off his guarantee.
The NFL is a fickle world, though, so it's probably best to either a) stop making guarantees or b) follow through with them. Since we know (a) ain't happening, well, the Jets need to win pretty quickly unless they want to end up as a punchline to a bad Joe Namath joke.
For more NFL news, rumors and analysis, follow

@cbssportsnfl

on Twitter and subscribe to our
RSS Feed
.