Posted by Andy Benoit

After Michael Silver's column in Yahoo! Sports about Jerry Richardson's condescending negotiating tones with Drew Brees and Peyton Manning, the football world may be starting to view the Panthers owner as the chief villain of the ongoing labor negotiations. Richardson's colleagues don't share that sentiment (not publicly, anyway). Darin Gantt and Joe Person of the Charlotte Observer passed along the various statements of support for R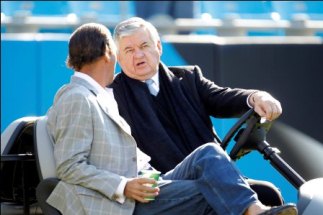 ichardson.

Robert Kraft said, "Since the Panthers joined the NFL, Jerry Richardson has been one of the league's most influential owners, frequently bridging any gaps among the ownership groups on various issues. His unique background as a former NFL player and successful businessman helps form a perfect personality to co-chair the owner's negotiating committee. Anyone who has ever heard Jerry speak at the owners' meetings knows that he has reverent regard for the players in this league.

"He has the full support of the other owners in the NFL who remain hopeful that we will reach an agreement with the players' union by March4."

John Mara, co-owner of the Giants, said, "There is no more respected owner in the league than Jerry Richardson. In his role as the co-chair of the owners' negotiating committee, he brings integrity, the desire to always do the right thing and he has the full respect of all the owners."

Kraft and Mara were both mentioned in Silver's column as two people who were particularly embarrassed by Richardson's negotiating style with the players.

Jerry Jones also lent his support, saying, "Jerry's greatest strength is communication. The more that is at stake, the more direct and clear he is with his words. When he speaks with people he cares about deeply - players, business partners, his fellow owners - he is always particularly straightforward and to the point. That is how he shows his respect for the situation and the individuals involved. He is one of the most effective leaders I have ever known because he is one of the best communicators I have ever been associated with."

The NFL has said it has no plans to remove Richardson from the CBA negotiations.

For more NFL news, rumors and analysis, follow @cbssportsnfl on Twitter and subscribe to our RSS Feed.