Posted by Andy Benoit

Negotiations between the NFL and NFLPA on a new CBA may have hit a snag Tuesday. Or, better stated, they remained snagged. Judy Batista of the New York Times says that the union has reje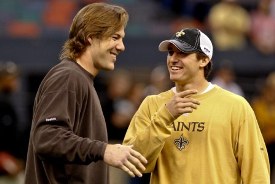 cted the NFL's offer to share more financial data.

This is nothing new. The NFLAP has been pining to see the owners' financial books for two years. On Monday, owners indicated for the first time that they might be willing to share more financial information with union officials than what is required.

But that's still not enough for the NFLPA. Batista writes, "One person involved in the negotiations called full financial disclosure a potential "silver bullet" in the negotiations."

Reviewing the books is not necessarily common practice in labor negotiations. But since taking over, union leader DeMaurice Smith has argued that the uncommon circumstance of owners asking the players to take $1 billion less in revenue warrants such transparency.

NFLPA executive committee member Scott Fujita (Browns linebacker) said in a conference call that the data owners have offered up thus far has not been sufficient.

"It's tough when you've got basically just a brief summary or a snapshot of all the information. That doesn't satisfy what any competent business person would want to see."

Both sides remained at the bargaining table on Tuesday and are expected to resume discussions Wednesday.

The negotiations Tuesday were said to center more around drug testing policy and offseason camps. Thus, the issue of dividing up that $9 billion in revenue remains, well, the most dividing issue.


The NFLPA is dead serious about their demands to see the owners' books. They've even gone so far as to
hire an investment bank for a potential audit
. That investment bank (which has not been specified) has gotten a glimpse of the past two years worth of financial statement summaries from owners but is said to need more information.
Make no mistake: splitting up the $9 billion in revenue is the key issue in these CBA talks. From the union's perspective, financial transparency is the only avenue to those talks going further.
----------
UPDATE Wednesday 10:15 a.m. EST:
On his way into Wednesday's negotiations, NFL lead negotiator Jeff Pash said to
NFL Network reporter Albert Breer
that the league has made more financial info available to the union than ever before, and more than is even available to the clubs.
For more NFL news, rumors and analysis, follow

@cbssportsnfl

on Twitter and subscribe to our
RSS Feed
.