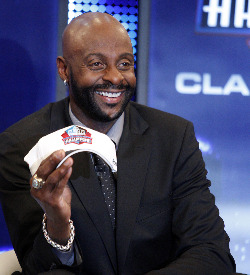 Posted by Andy Benoit
Jerry Rice, the greatest wide receiver of all time will be inducted into the Pro Football Hall of Fame this weekend. We had a chance to chat with the legend. Here's what he had to say.
CBSSports.com:
You're going to the Hall of Fame this week, which means you've been out of football five years. So what has been most surprising to you in your post-football life?
Jerry Rice:
The most surprising thing after football is that I'm still hungry. I've teamed up with Proctor and Gamble (for
the Take it to the House program
). I've done Dancing with the Stars. The Nationwide (Golf) Tour. Getting ready for the Pro Football Hall of Fame. So, I'm busy, I'm enjoying life and I'm just living each day one at a time.
CBS:
Have you had to shift your expectations as a competitor, or have you been able to scratch the competitive itch with these new things?
JR:
I miss football. I miss it – I miss it with a passion. When I did Dancing with the Stars, there was a competitive nature there. Same with the Nationwide Tour. Anything I try, I'm always looking for perfection. I never had that ultimate game. I could have so many great things – 10 or 12 receptions, whatever, 20 touchdowns and still it would boil down to missing a block or blowing an assignment or something like that. So, I'm always searching for it (perfection) and hopefully one day I'll get it.
CBS:
You have a son playing at UCLA.
JR:
Yeah, my son got redshirted his first year, so I'm hoping to see him on the football field this year.
CBS:
Talk about your relationship with your son football-wise. Imagine it'd be both a blessing and a curse to be Jerry Rice's son and play wide receiver.
JR:
You know, I think my son does a great job of dealing with "Ok, yeah, my dad is Jerry Rice, who played for San Francisco and accomplished so many things", but he's just trying to be himself and I never try to put pressure on him. More than anything, I just want to support – just like a father. When I go to his ball games, I don't try to critique him, but if he wants to talk about scenario, I'm willing to give him my input.
CBS:
How often does he come to you for advice?
JR:
He'll call me up and say, "Hey Dad, what happens when you get a defensive back that wants to be physical at the line of scrimmage?" And I will tell him, "You have to win at the line. You have to dictate to that defensive back what you want to do. If anything, you have to be aggressive. That was my approach for 20 years, and I think I had some success doing it."
CBS:
You have a lot going on. But we both know, no matter what you do for the rest of your life, people are going to see you as a football legend first. Whenever you meet someone, that's their image of you. Very few people have that in their life. How do you feel about that?
JR:
I feel very fortunate because I was able to play the game for 20 years. That's a long time. I think it shows my dedication to the game and how I would prepare myself in the offseason. A lot of guys are lucky to play for four years; I was able to exceed that by 16. I just feel honored.
CBS:
Do you ever feel like part of you just wants to be treated as Jerry Rice Human Being rather than Jerry Rice Football Legend?
JR:
You know what, I've never looked at myself as "the football legend". I had an opportunity to live a dream for so many people. I think a lot of guys can relate to me – even a lot of women – because when I stepped on a football field, you could tell there was a lot of appreciation there. If I'm walking through the airport or I'm doing whatever, I have people come up to me and say, "Hey, thank you for bringing so much gratification to my day just watching you play football on television or at the stadium."
CBS:
What's something about yourself as a football player that you appreciate that other people maybe don't appreciate – something you never got credit for that you're proud of?
JR:
It's easy to become complacent, but I never gave in, I was always like a rookie trying to make the team and I continued to work hard. I would go training camp early with the rookies, and I felt like I had to prove myself every year.
CBS:
What's your single greatest accomplishment as a player?
JR:
Oh my God. Ah….(laughs)…well, I would say the Super Bowls that we won. That's why you play the game. Not the records, but having the opportunity to play on that stage and win it – that's something I'll never forget.
CBS:
Wes Welker
is coming back from a knee injury. You came back from a knee injury in the 90s. What's it going to be like for Welker?
JR:
I think with Wes Welker, it's going to take him a second to gain the confidence he needs to be on the football field. He's out there practicing right now and he's probably doing everything. But after I came back, it was all about taking that first hit, being able to step up after that first hit and walk back to the huddle. It's like "okay, I'm okay, I can go now." I'm sure he's waiting and anticipating that first hit, and I hope everything goes well for him.
CBS:
Darrelle Revis shutdown a lot of No. 1 receivers last year. If you went up against him in the height of your career, what kind of numbers do you think you would have posted against him?
JR:
You know, I never really would predict how many balls I would catch or how many touchdowns I would score. I think it would be the ultimate challenge for me. I enjoyed rivalries like that. Say like the Darrell Greene's or the Deion Sanders's. I would just go out there and try to dictate the game, and not wait on him for him to get his hands on me. I would be the aggressor, and hopefully come out with some catches and score a couple touchdowns.
For more NFL news, rumors and analysis, follow @cbssportsnfl on Twitter and subscribe to our RSS Feed .