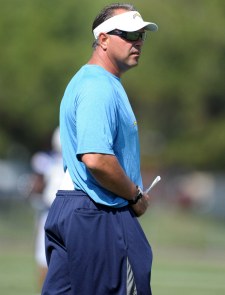 By Josh KatzowitzUPDATE: 5:58 p.m. ET - Several outlets are reporting that longtime Chargers defensive assistant John Pagano has been hired as the team's new defensive coordinator.
The Chargers will look for their second defensive coordinator since Jan. 2011. That's because, as the
San Diego Union Tribune
reports, San Diego has fired Greg Manusky.
"I'd like to thank Greg for the passion and enthusiasm he brought to our team and coaching staff this past season," Turner in a statement released by the team.
Only a season ago,
after Ron Rivera left
for the
Panthers
head coaching job (a job in which Manusky actually was one of four finalists), the Chargers hired Manusky to replace him. Before that, Manusky had been the
49ers
defensive coordinator, but when Jim Harbaugh was hired, he made it clear Manusky wouldn't stay in San Francisco.
When it became clear that Norv Turner and San Diego general manager A.J. Smith
would be retained
by owner Dean Spanos, some kind of change still needed to be made. Manusky -- whose unit finished 16th in the league in yards allowed -- just became that fall guy.
Of course, this move IS rather interesting, considering this is what Turner said about Manusky THREE days ago.
Latest Coaching Rumors, News
"I would not characterize the hiring of Greg Manusky as a mistake," Turner said, via the
North County Times
. "He has done a good job for us. Losing so many guys and playing so many young players is difficult.
"Defensively, it's all about having impact players. If you don't have players that can [beat] a guy one-on-one and make a big play, you're not going to get the number of stops you need to get. It's been a hard year for all of us and a tough year for Greg, but I thought he did a good job."
So, if it's not Manusky's fault, as Turner flat-out says, but instead, the fault of whomever is in charge of player personnel, it sounds like Manusky got a raw deal. Especially since the general manager in charge of player personnel still has a job.
For more NFL news, rumors and analysis, follow

@EyeOnNFL

on Twitter, Like Us on Facebook, subscribe to our NFL newsletter, and while you're add it, add our
RSS Feed
.