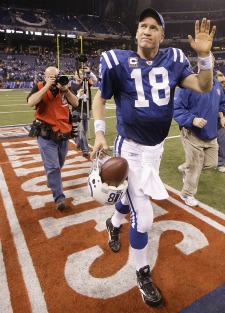 Ever during his tough rookie season, Manning will be remembered as a gentleman. (US Presswire)
By Josh Katzowitz
With the news that the
Colts
most likely will release quarterback
Peyton Manning
, an Indianapolis era is over. Manning was the one who led the moribund franchise into a perennial Super Bowl contender. He's the one that led the Colts to the world title. He's the one who helped convince the NFL to place Super Bowl XLVI in Lucas Oil Stadium. Hell, Manning is one of the main reasons Lucas Oil Stadium was erected in the first place.
So, it'll be a sad day when the Colts say goodbye to one of the top players in NFL history.
And it's a sad day for the reporters who covered him, as
Indianapolis Star
columnist Bob Kravitz
put it on Twitter
. "It was a joy and a privilege to watch and cover Peyton Manning. Always a class act, went out of his way to accommodate us. ... One example: After nite games, PM would talk to us right away, usually in full pads, knowing we were on deadline and in a rush. Appreciated."
I know what Kravitz means, because it was Manning 14 years ago who saved me from what could have been one of the most embarrassing moments of my young career. It was Dec. 6, 1998, and I had driven to Atlanta from Athens, Ga., to cover the
Falcons
-Colts game so I could write a feature on former University of Georgia offensive lineman Adam Meadows for the
Red & Black
, the student newspaper.
The Colts were terrible that year, finishing 3-13 in Manning's rookie season in which he led the league with 28 interceptions. On that day, though, the Colts were just as good as Atlanta, which went 14-2 that season and wound up losing to the
Broncos
in the Super Bowl. Manning went 19 of 27 for two touchdowns and two interceptions, and Colts running back Marshall Faulk rushed for another score as Indianapolis took a 21-7 lead in the second quarter. The Georgia Dome was stunned. The terrible Colts were en route to upsetting perhaps the best Falcons team of all time.
Latest news at Peyton's place
But Atlanta scored and then scored again to tie the game. Then, one more time in the third quarter to take a 28-21 lead that Manning couldn't erase. The Colts fell to 2-11 that day, and the mood in the Indianapolis locker room was sour. Meadows was pleasant, but Faulk barked a non-answer at me that probably should have given me pause before I approached Manning in the corner of the locker room as he dressed after his shower.
I didn't know how locker room protocol worked, and I'm sure, by that point, Manning had already conducted his postgame press conference. But I didn't know any better. Instead, I saw a chance to get Manning one-on-one. I approached and greeted him. He looked at the floor, but he it was clear he would answer my queries after I told him I was from the UGA student paper.
I asked him a couple questions, and he answered without much enthusiasm. Then, I asked him the worst question I've ever muttered in my life. I won't mention it, because it was so god-awful brutal. But suffice to say, Manning could have -- and probably should have -- told me to get the hell out of the locker room. The question was
that
bad. But he didn't. He looked at me, probably sighed, and answered the question. Like it was legit. Like he wasn't standing there in his boxers wanting to disappear from the locker room. Like I hadn't just asked an idiotic question.
But he answered, and I used his quote as my kicker to that story (I apparently thought my question was that top-notch).
I'll never forget him for that. He could have blown me off and embarrassed me like Faulk. He could have excused himself and left the scene. He could have put on his pants and ignored me. He could have laughed in my face. But he didn't. He treated me like a reporter. He treated my question like it was a professional had asked it. He treated me like an adult. For that, I'll always be thankful.
For more NFL news, rumors and analysis, follow

@EyeOnNFL

on Twitter, Like Us on Facebook, subscribe to our NFL newsletter, and while you're add it, add our
RSS Feed
.